Beginnings • The Post-War Years • The New Millennium • Student Work Off-Campus
---
Founded in 1866 by the Minnesota Conference of Congregational Churches, many of Carleton's first engagements with the wider world were associated with its Christian mission. A number of Carleton's earliest graduates went on to undertake missionary work in China, Japan, India, Turkey, as well as throughout the United States. Some of Carleton's earliest international students first become acquainted with Carleton through these missionary connections.
The study of foreign languages at Carleton also has its roots in Carleton's earliest years: initially, Latin and Greek, with French and German joining them soon thereafter. The early 20th century saw an international dimension introduced to new areas of Carleton's curriculum, from international relations to geology, with the help of notable figures like Frank B. Kellogg and Laurence M. Gould.
German lunch table
#9 of 20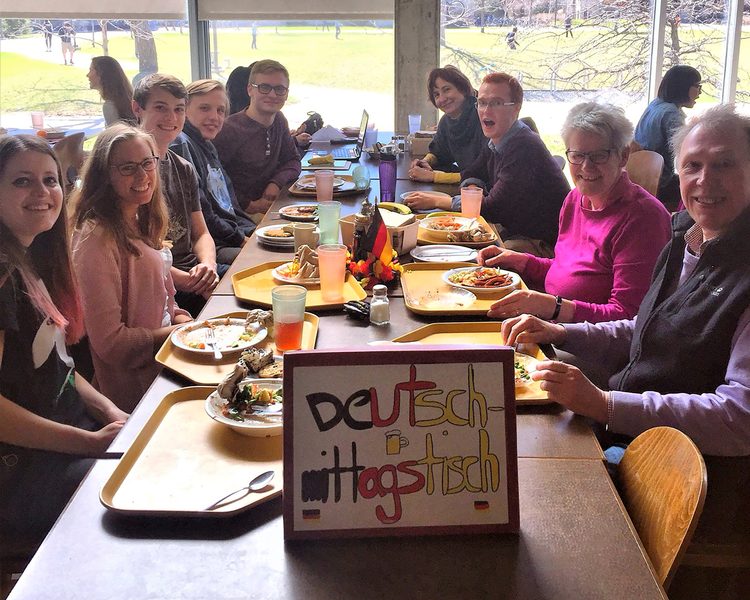 2017
Sigi Leonhard, Professor Emerita (top right) and visiting family members join students at the German lunch table.
The French and German tables now meet in the Language and Dining Center (LDC), alongside their counterparts in Spanish, Russian, Japanese, Chinese, Hebrew, Arabic, and Classics. Carleton students today also put their language skills to use by conversing with visiting Language Associates, taking part in programming at Parish International House, and through language-focused off-campus study programs, internships, and civic engagement opportunities.
17 August 2017