Feb
21
French & Francophone Studies in Paris Information Session
Mon, February 21, 2022 • 4:30pm - 5:30pm (1h) • LDC 104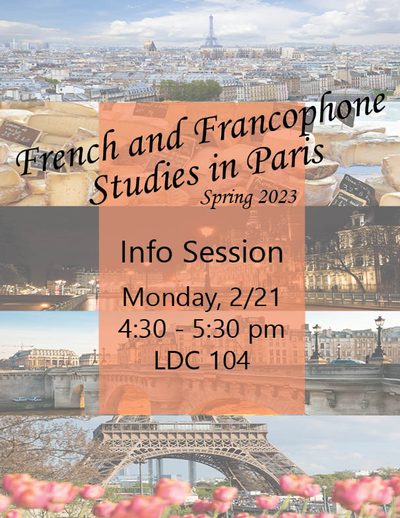 Spend the spring studying in a diverse and dynamic city, rich in historical and contemporary culture. Choose among classes on French Culture, Islam in France, and Art History. Live with a Parisian family and travel to Provence. In the process, learn to view yourself and the world from a different perspective.
Please join us for an information session about the Spring 2023 French & Francophone Studies in Paris program! Monday, February 21th @ 4:30pm in LDC 104.
Please visit the program page for additional information.
from Off Campus Studies