Apr
2
Screening of Hearing Radmilla!
Sun, April 2, 2023 • 4:30pm - 6:00pm (1h 30m) • Weitz Cinema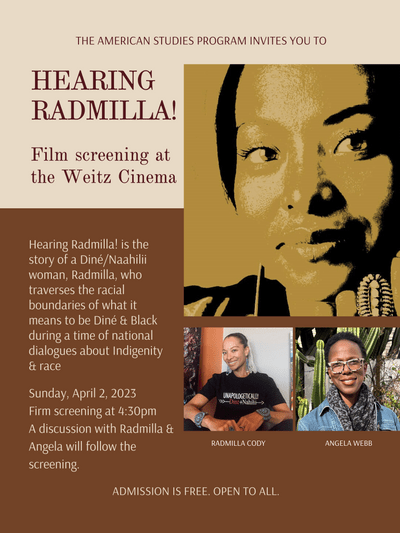 Please join the American Studies Program for a showing of the film Hearing Radmilla! followed by an overview and Q&A session with Radmilla Cody (Diné/Naahilíí) and Angela Webb.
Radmilla Cody is a GRAMMY Nominee, NPR's 50 Great Voices, multiple Native American Music Awards Nominee, international performer, a former Miss Navajo Nation, co-founder of the Shimá Storytelling Program andthe founder of the "Strong Spirit: Life is Beautiful not Abusive" campaign which brings awareness to teen dating violence.
Angela Webb began Hearing Radmilla (2010, 82 min) organically, with no formal training while working as a producer and a youth media educator in New York City. During that period, she traveled often to Diné békeyah to learn about Diné history and culture. Webb is currently based in Los Angeles, working as a Project Manager for an educational management organization.
from American Studies