SEXploration 2023 started April 1!
Welcome to SEXploration 2023! The Health and Belonging Cohort is so excited to be back for another year of programming. Through partnerships with the GSC, Title IX, the Career Center, and more, this April will hold opportunities to learn and engage with topics on sexual health and wellbeing. SEXploration was borne out of a Carleton community need for information that may have been missed during sex education in the American K12 school curricula. In SEXploration, we connect you to on- and off-campus resources to support sexual health and well-being in our community. We invite you to explore more resources below, and we hope to see you in person for some of these amazing events!
Participating Campus Offices:
Career Center
Center for Community and Civic Engagement – Health and Belonging Cohort
Gender and Sexuality Center
Gender, Women's, and Sexuality Studies – Academic Department
Title IX Office/ Sexual Misconduct Prevention and Response (SMPR)
Office of Health Promotion
Public Health – Academic Department
Student Health and Counseling
Off-Campus Partnerships:
Smitten Kitten
Carleton Alums
HOPE Center
---
Educational Resources
General STI Info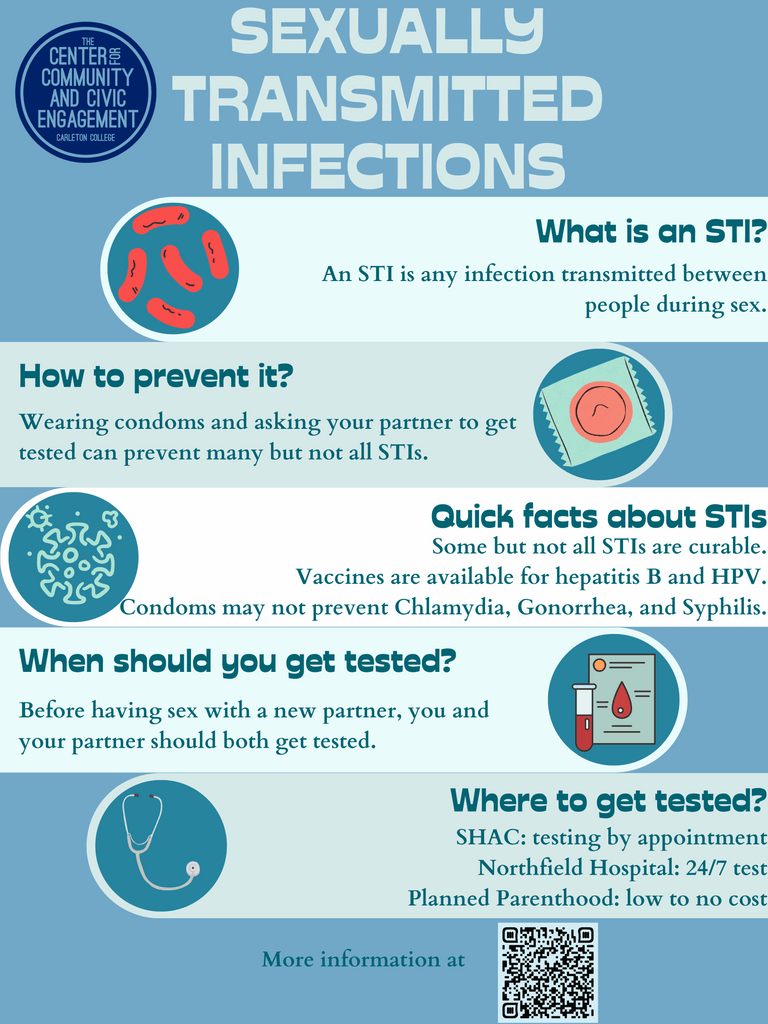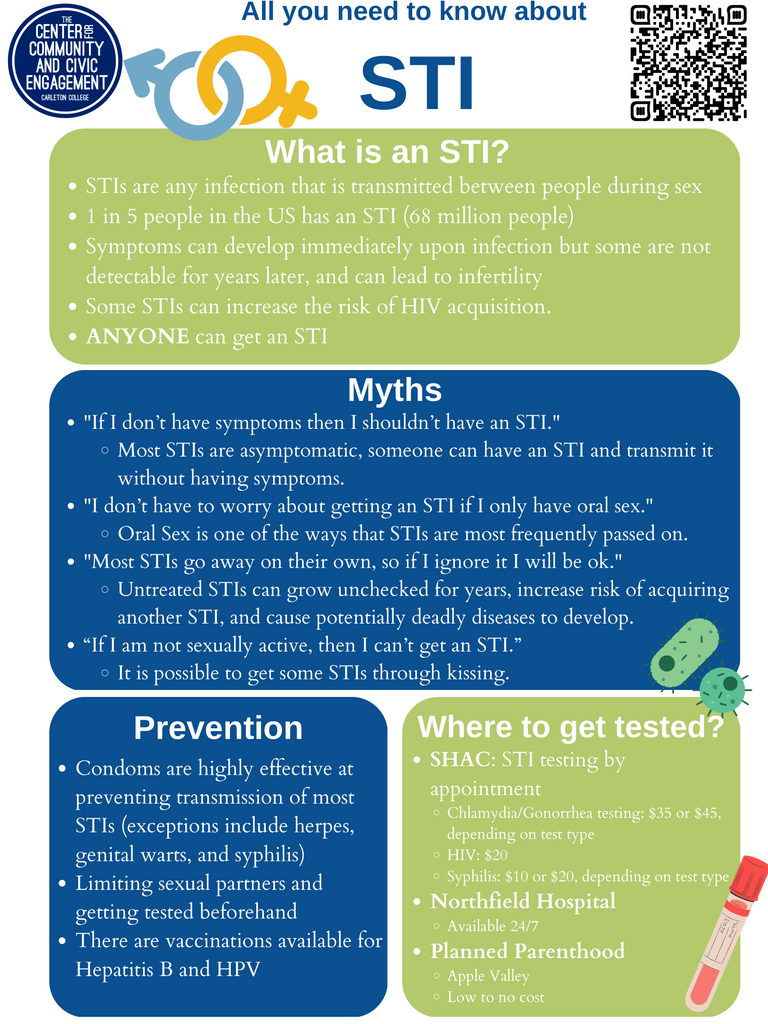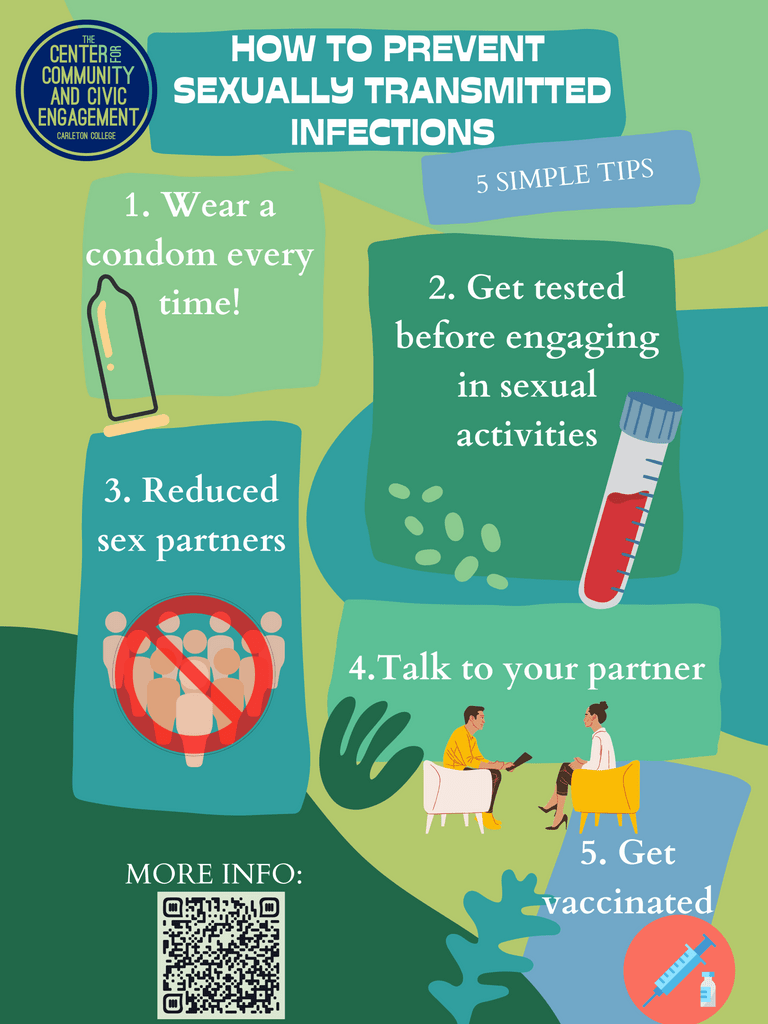 HPV Info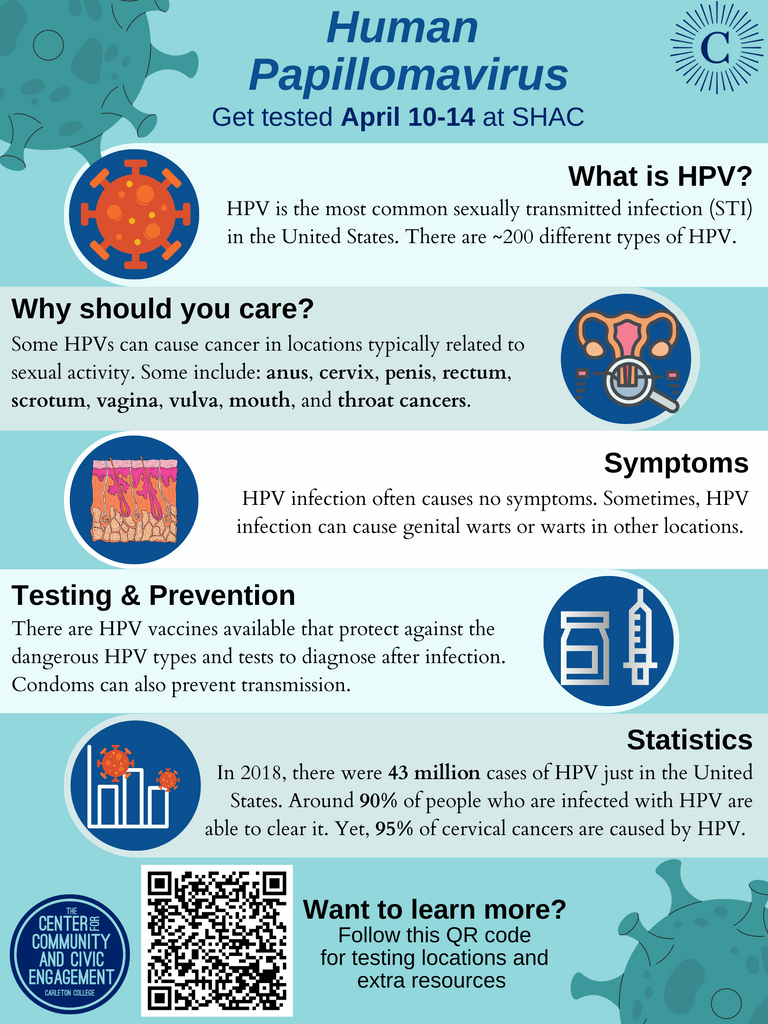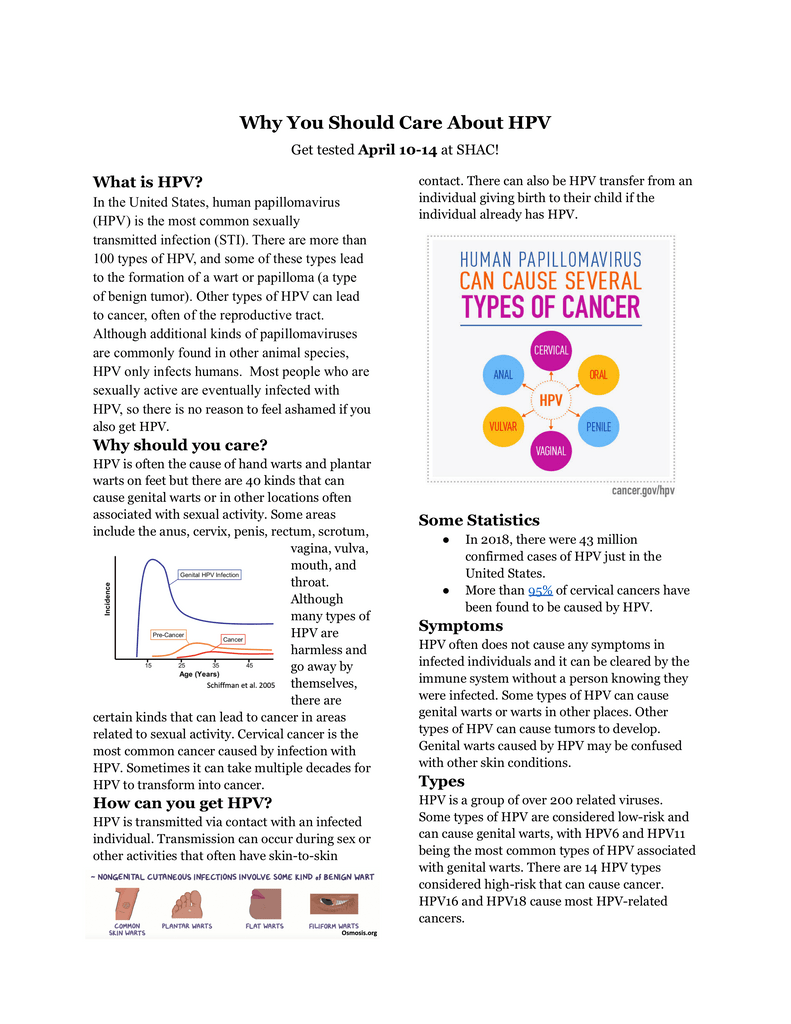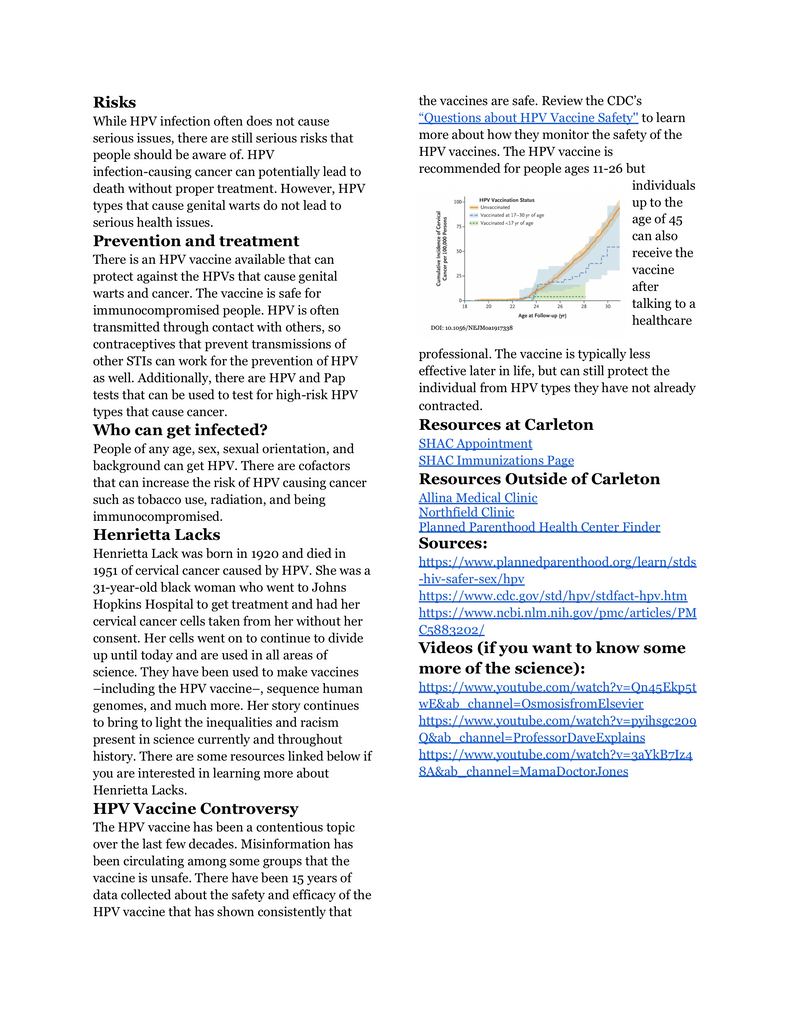 HIV Info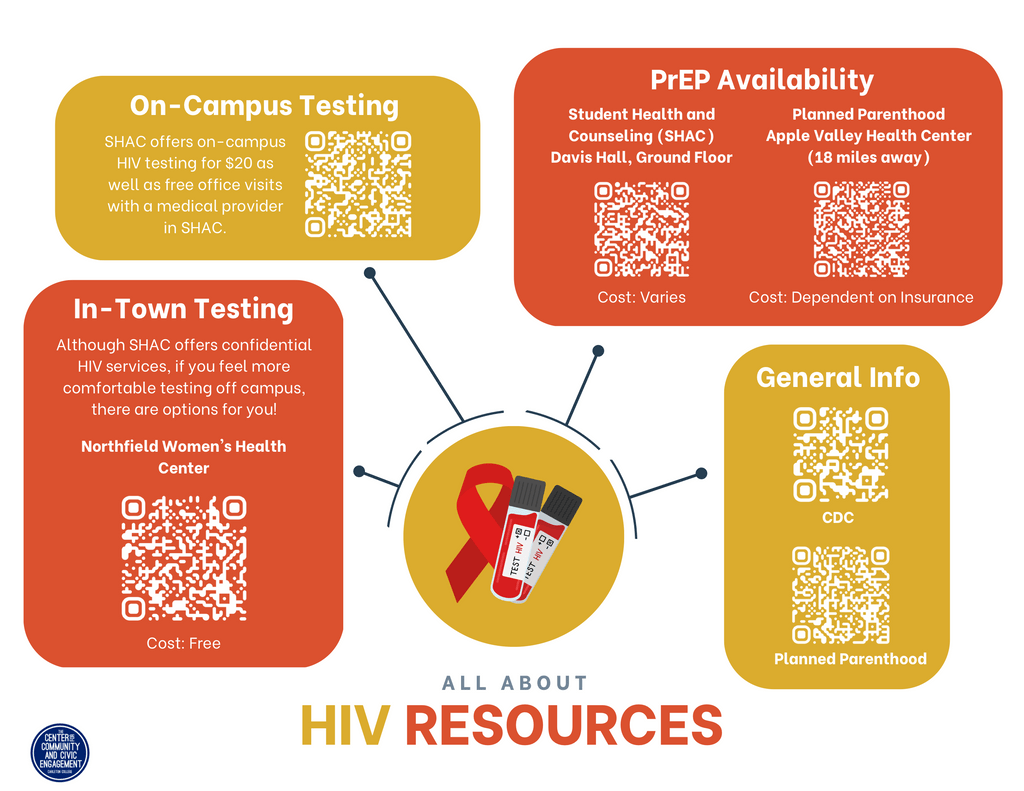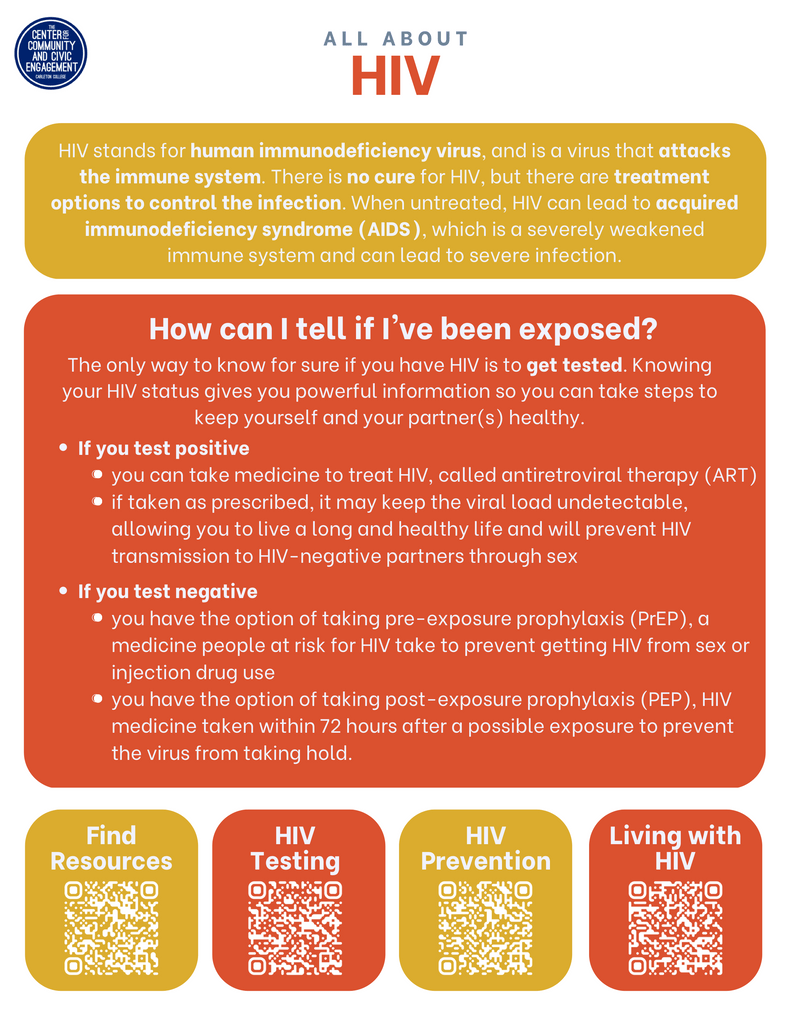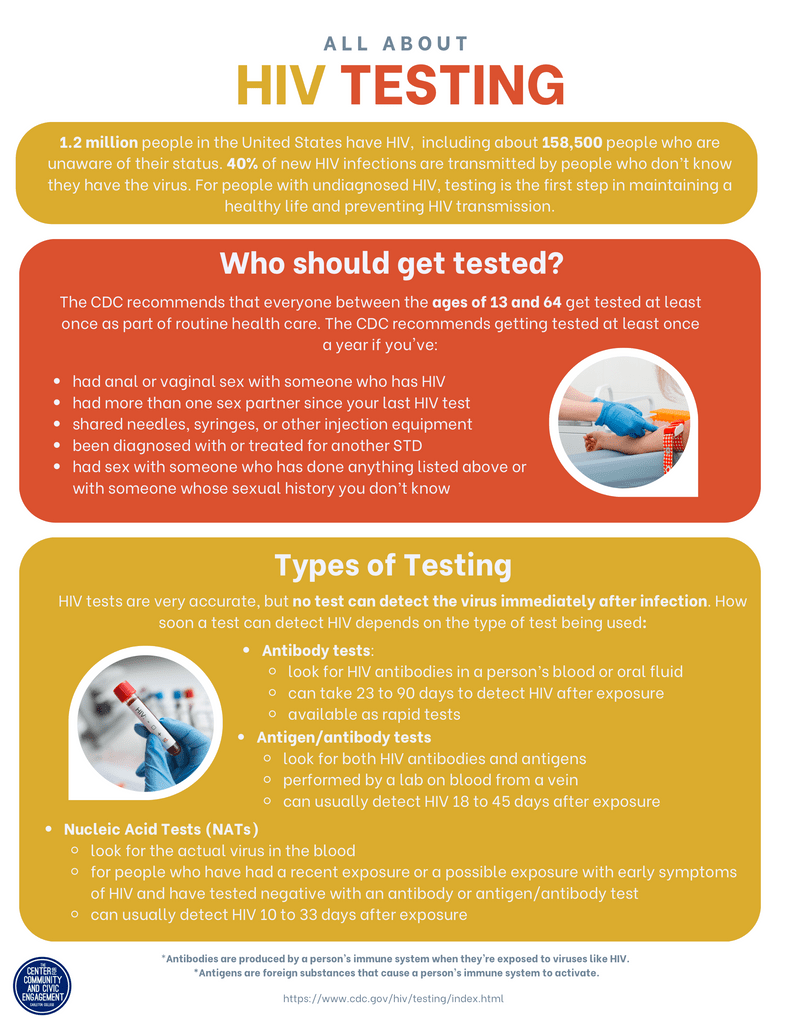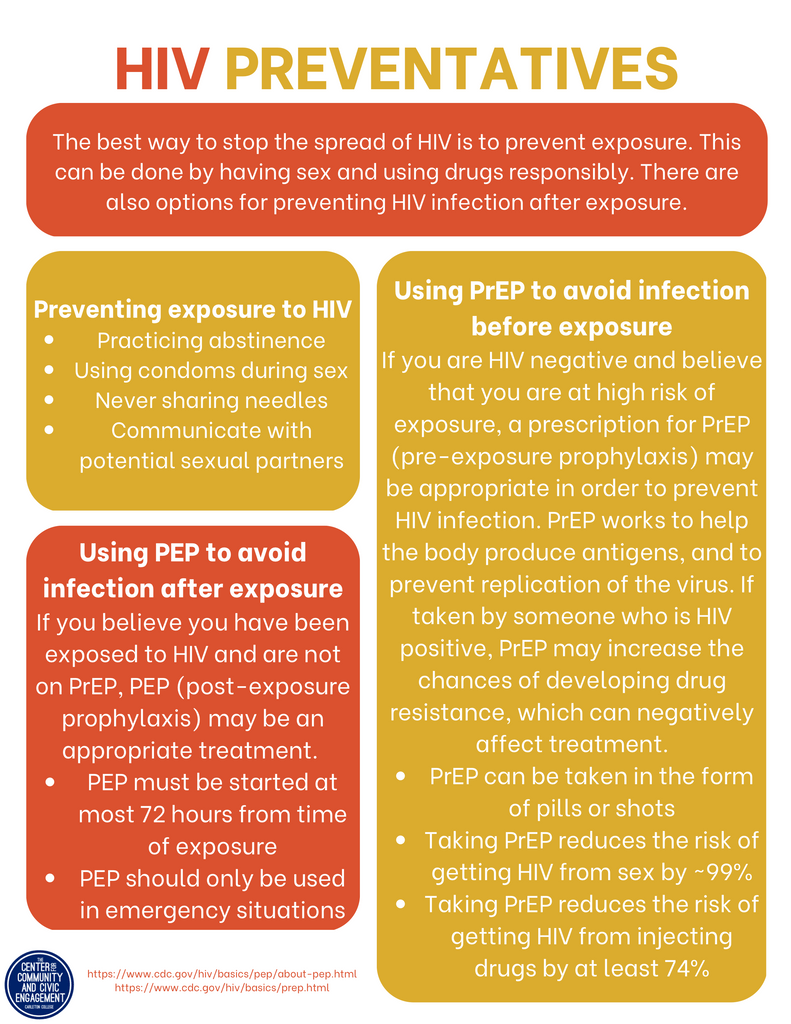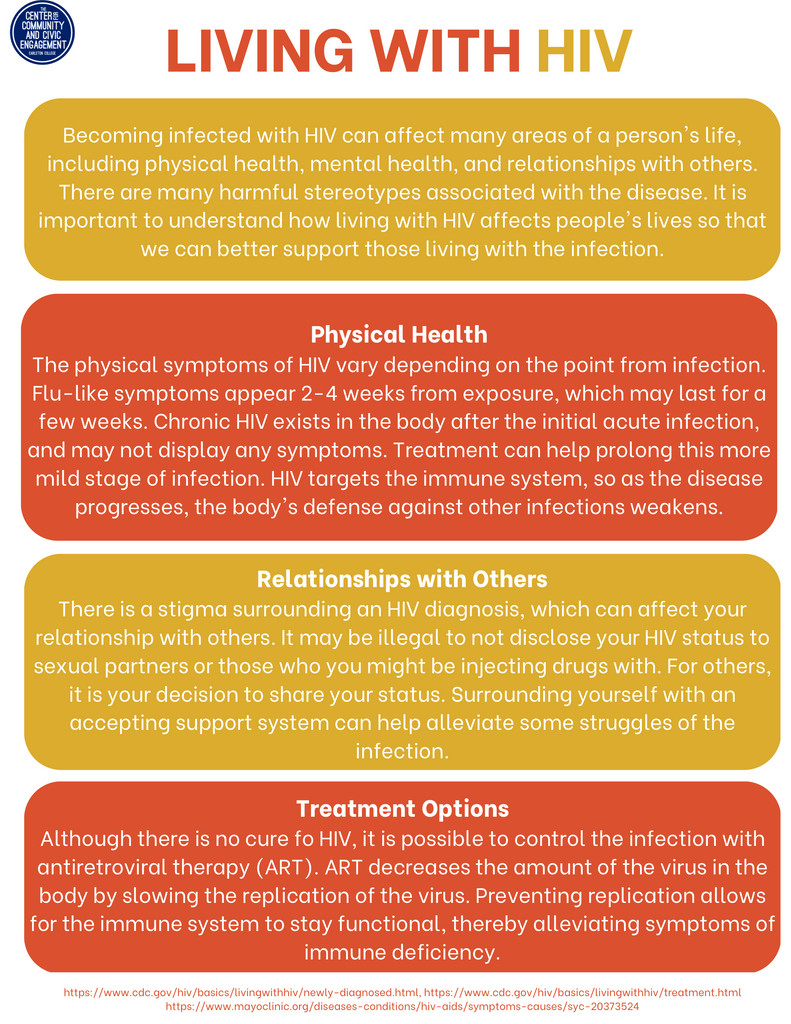 Sexual Violence Resources*
* These resources were provided by Erica Staab-Absher, the director of HOPE Center, in the sexual violence talk on Tuesday, April 4th.
Register for Events!
SHAC STI testing drive
April 10th-14th @ SHAC
Visit your MySHAC Portal portal to register for testing
How it works:
Register on your MySHAC Portal for a time that works with your schedule using the following criteria

Clinic: Medical appointments
Reason: SEXploration STI testing
Provider: All

Fill out 1 form in your MySHAC that includes the following information:

Sexual health history: so that provider can recommend tailored tests
Insurance coverage: to determine if the labs are in network for additional tests

Show up to your appointment and get tested!
Insurance information (IMPORTANT, PLEASE READ!!)
If you are on the Student Health Insurance, you can disregard and go straight to your appointment. If you have any other insurance, please continue reading.
You will need to call your insurance company or visit your insurance website to determine coverage

PRIOR

to your screening visit. If you have not done this, SHAC will not be able to complete the visit in the allotted time frame.
If you call the number on the back of your card, let them know you are at school away from home and want to get screening lab tests done.
The information we need to know is if the Laboratory Corporation of America (otherwise known as LabCorp) is in-network with your insurance company, and how STI screening is covered under your plan.
For location for LabCorp, use Englewood, CO
If you need to provide a diagnosis code to determine if testing is covered, it is Z11.3 or Z11.4
If you need to provide CPT codes, they are: 87491; 87591; 86803; 86592; 86803
If they ask, the labs will not be charged with an office visit.
All tests are likely to be covered by insurance. If not, prices for tests are as follows
Chlamydia/Gonorrhea: $40 per site
HIV: $20
Syphilis: $10
The CCCE will be allocating funds to cover the first 20 HIV tests not covered by insurance
Unsure about if you should get tested? Fill out the forms and a SHAC provider will help you in determining what specific tests they recommend.
Additional testing resources:
The following are additional STI testing resources in our community that are also available. Keep in mind that SHAC is often the easiest resource for getting tested while on campus. SHAC is also available throughout the academic year for STItesting.