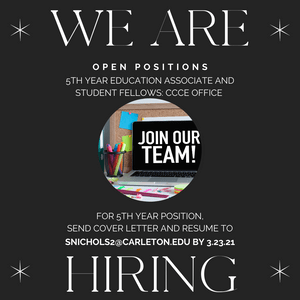 The CCCE has one Professional Staff Position as a 5th Year Education Associate available for a graduating Carleton Senior (Full-Time, Temporary) (see job description) and a number of Paid Student Fellow Positions open for the 2021-2022 academic year.
Hiring will take place this spring. The start dates are mid-August for the professional staff and mid-September for the student positions. A cover letter and resume for the 5th Year Education Associate position should be sent to snichols2@carleton.edu by March 23, 2021.
All Fellow Positions are open for applications through the Carleton Handshake application process.