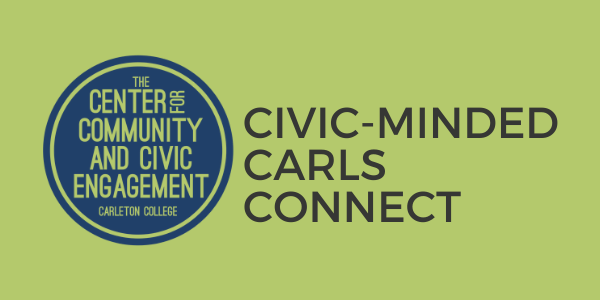 Students: Are you interested in a life path that allows you to make a difference to the social issues you care about? Are you curious about how Carleton alumni have worked toward social justice while having full careers and lives? If you would like to hear real-world stories and ask honest questions without the pressure of a career conversation, please apply to be matched with an alum for the pilot of Civic-Minded Carls Connect in Spring Term '21.
Alumni: Are you interested in connecting with civic-minded Carleton students and supporting them in their journey? Are you willing to share about your own life path and lessons learned as you strive to make a difference on the social issues you care about? Please join us for Civic-Minded Carls Connect if you are engaged in tackling issues of shared community concern – personally or professionally – or if you would like to be.
Participating students will be matched with an alum from the Class of '96 to have a conversation together via zoom. See details in the interest forms below. Due: April 2, 2021
Please note that this is a pilot. We don't know how much interest there will be and may not be able to make a match for everyone interested. If you're paired with someone, expect conversations to take place in late April and early May.
With questions, contact Sinda Nichols at snichols2@carleton.edu.