We are happy to announce that Northfield Hospital + Clinics EMS Education is hosting a Certified Nursing Assistant (CNA) Training Program in collaboration with HeartCert CNA! The CCCE supports this training to meet a community-identified need of CNAs. Additionally, removing barriers for students to access this training and supporting their learning aligns with our strategic objectives. In spring 2022, the CCCE supported our first cohort of 10 students. As of May 1st, 19 Carleton students are participating in the program in 2023.
This program has asynchronous online training and classroom sessions on weekends. Enrolled students will complete 43 hours of asynchronous online training prior to 35 hours of classroom training. The classroom portion will be broken up into 4 sessions over 2 weekends at the Northfield EMS Station (located near Perkins) and offered monthly. After completing the classroom session, students may apply for employment and/or register for the state licensing exam.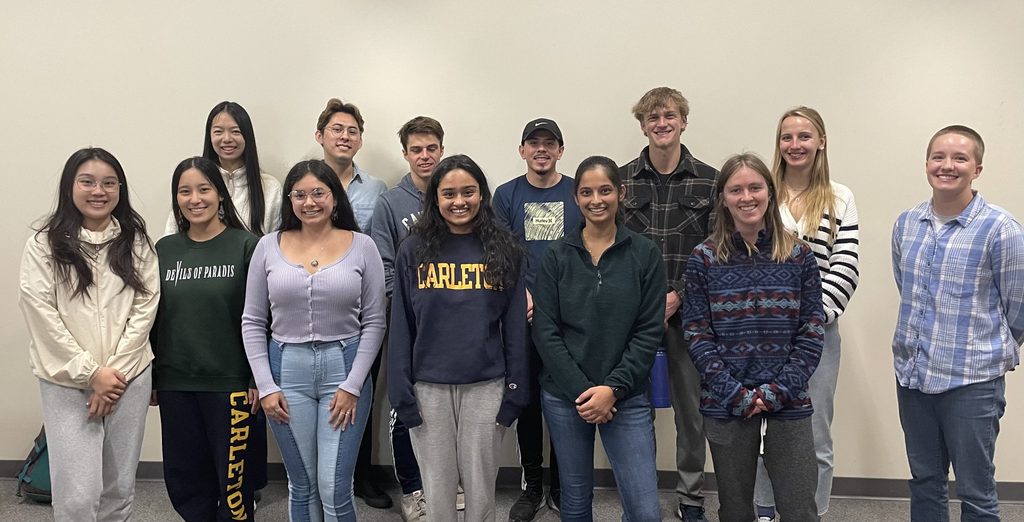 Email CCCE Fellow Anna Ursin (ursina@carleton.edu) or CCCE ProStaff Erica Zweifel (ezweifel@carleton.edu) with any questions!
What is a CNA?
A Certified Nursing Assistant (CNA), also known as a nursing assistant, a resident assistant, or a patient care assistant provides direct patient care. Some of the job duties of a CNA include aiding patients with activities of daily living such as eating, bathing, dressing, and exercise; measuring and recording patient vital signs; and communicating patient condition to the care team (Cambridge Health). Many pre-health students find working or volunteering as a CNA to be a valuable clinical experience.
CNAs provide care in a variety of settings. From residential settings such as nursing homes and assisted living to clinical settings such as outpatient visits, hospital floors, and emergency rooms, CNAs are an essential part of the care team.
Funding
The CCCE has a limited amount of funding, so we will be providing partial scholarships of up to $1,000 per student and prioritizing these scholarships for students who are able to work or volunteer in Rice County using their certification/training after completion of the course.  Please fill out the CNA Funding Application and funding will be reviewed on a rolling basis. CCCE funding can be used for any available HeartCert classroom training dates, but if you receive CCCE funding, you must be committed to completing the course. Applications will be reviewed by CCCE ProStaff in the order received. 
If awarded funding by the CCCE it is about a 4 week turnaround from receipt of funding application to disbursement of funds. Please keep this and the 43 hour online training in mind when choosing classroom training dates.
Enrollment and Cost
The cost of the HeartCert course is $1,500. Any Carleton student using their Carleton email to register can register for a discounted cost of $1,250, by using the discount code CARLETON2023. Students can register online. Additionally, students will need to purchase scrubs for the classroom session and the state licensing exam is a separate $240. If these costs present a barrier, we encourage you to apply for any and all of the funding options below. 
Whether or not you apply for funding, please let the CCCE know when you register for the course by emailing Erica (ezweifel@carleton.edu) so we can keep you in the loop about CNA alumni events and employment opportunities.
Training Logistics
The in-person sessions are held at Northfield Hospital + Clinics EMS Station at 1600 Riverview Lane. Transportation options for Carleton students include:
Dial-a-ride through Hiawathaland Transit: Can take students directly to or from the EMS Station, 24-hour notice required. Saturdays 7am-5pm. Dial-a-ride-tokens are available in the CCCE.
Carleton Fleet Vehicles: Can be used by campus drivers. The CCCE can help with reservations.
Student carpooling: We encourage students with personal transportation to ride together. The CCCE can help coordinate carpooling.
Where to get scrubs:
The Clothes Closet in Northfield may have used scrubs.
Goodwill may have used scrubs. There are several locations near Northfield (Faribault, Lakeville).
Scrubs & Beyond is located in Burnsville and is a good option to try on scrubs in person.
Walmart in Faribault sells scrubs.
Several online retailers, Amazon, eBay, etc. sell scrubs.
Employment and Volunteer Opportunities
There are a number of employment and volunteer opportunities available for students here in Rice County. Some of these opportunities require students to have their CNA, while others provide their own training.
If you are a community partner with employment, volunteer, or training opportunities for CNAs (certified or non-certified) please email ccce@carleton.edu to get on this list.
Quotes from past CNA students
"It helped me connect a lot with the elderly residents of the Rice County community, especially in addressing their needs and desire for company"

– Diana Kachman '23
"I think this program was a great opportunity to get certified and open endless job(s) that are very patient-oriented and rewarding."

– Spring 2022 CNA Student
"I feel as though I have been able to have a richer experience with my community in this way. It really feels as if I am doing something, rather than simply talking about it."

– Alexa Kong '23
Transferring your CNA license to another state
After completion of the HeartCert CNA training course and passing the licensing exam, you will join the Minnesota Nursing Assistant Registry. However, you can also transfer your license to many other states if you move or are working over the summer.