Four Friends Fellowship
This Summer: Travel with Friends. Learn. Contribute.
Watch for more information about this Fellowship in Winter Term 2023.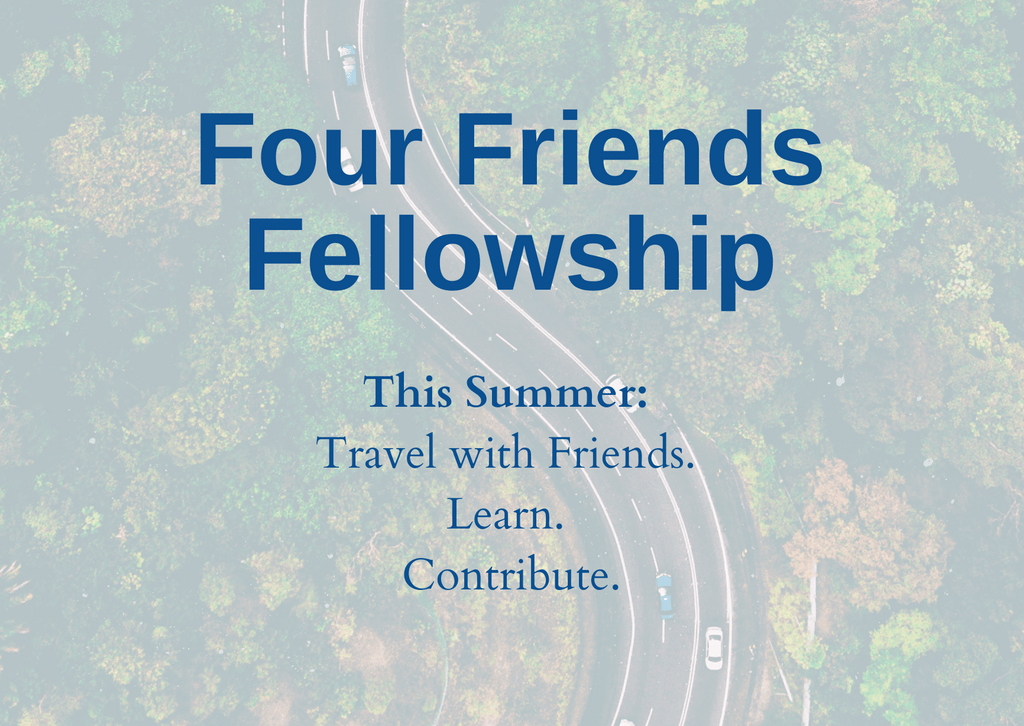 The Four Friends Fellowship was established in 2012 by a gift to Carleton from (L to R) John Youngblood '81, Peter Ross '80, Danal Abrams '80, and Jeff Appelquist '80 (collectively, "Four Friends") in thanks for all the experiences they have had together since meeting at Carleton in the late 1970s. In establishing the fellowship, The Four Friends sought to express their fondness for Carleton College and appreciation for the abiding connections they formed during college and have continued to grow throughout their lifetimes. The Fellowship is awarded annually to the group of two or more Carleton students proposing the most compelling experience.
In 2019, the administration of this fellowship moved to the Center for Community and Civic Engagement (CCCE), with a deepened focus on social impact and community development on and off campus. Carleton projects that engage in the wider communities have dual impacts. They generate individual transformation for students and long term relationships and connections around common goals.
We encourage proposals for collaborative projects that address an issue of social justice, especially those that are building off of activities that are already happening on campus and/or uniting curricular and co-curricular learning. What are projects that build on the momentum of engaged Carleton programming already in motion? While CCCE programs are organized into four focus areas; Food & Environmental Justice, Health and Belonging, Educational Equity, and Peace, Conflict & Democracy, our work is very intersectional and combines curricular and co-curricular projects. For example, Food Recovery Network is a robust volunteer program that is collaborating with an Academic Civic Engagement anthropology course. Environmental Studies students use academic research to consult on policy suggestions for the Northfield Climate Action Plan, building off the work that the CCCE Food & Environmental Justice cohort supports.
Could you and your friends use a summer to creatively build on your student leadership and publicly engaged coursework to further your social impact and build lifelong friendships in the process? We think you can! This is not your typical pre-professional break experience. Follow your passion, be creative and consider the incredible assets Carls bring to the table. Use your imagination and consider such options as an art or science project; the creation and performance of a musical and/or dramatic work; or a capacity-expanding project for a local organization.
Funding: Up to $4,000 total available to be awarded to one or more proposing groups of students, with the objective of strengthening friendships and doing good.
Eligibility: The Four Friends Fellowship is intended for any group of two or more First-Year, Sophomore, or Junior Carls to use intra-term or during any summer or winter break prior to graduation, and may take place either on- or off-campus. Projects must include a reciprocal community engagement component designed to deepen relationships within and beyond the Carleton community and generate ongoing enthusiasm for social impact, community development and the Four Friends Fellowship.
Students studying any discipline or combination of disciplines are eligible.
All applicants must be in good academic standing.
Seniors are ineligible to apply, even if applying with younger students.
This award is not intended to fund student organizations or travel for established groups on campus.
Travel to the home countries of any international student applicants will not be supported by the Four Friends fellowship.
Must include a reciprocal community engagement component. Learn more about ethical community engagement at the CCCE website.
Selection Criteria: Successful Four Friends Fellowship applicants will collaborate on the development of a group project that is creative, feasible, and honors diverse forms of knowledge. Selection will be based on the following criteria:
originality of the idea (including its spirit of innovation and honors diverse forms of knowledge);
The project has a reciprocal component, developing deep connections among Carleton students and the wider community;
viability of the plan and budget; evidence of extensive collaboration in the proposal and the plan itself ;
And the overall quality of the proposal.
Do not feel constrained when imagining possible experiences that could be funded, and do not assume that you must already be very close friends in order to apply for this award. You might wish to explore a friendship or common interest that is just emerging! Think collaboration, creativity and camaraderie. The Four Friends have produced a video describing their goals for the fellowship, which you may wish to consult in developing your application ideas.
The Application Process: The Center for Community and Civic Engagement will correspond with ONE group member, so each group should appoint a contact person. That person will be responsible for gathering and submitting all elements of the proposal (except for the recommendation(s)). Your group contact person should submit the application (at the bottom of this page) including the resumes of all members of the group.
In addition, you'll need to list one person outside of the group who can act as a reference (e.g., a Resident Assistant, a faculty member or an employer). You will be asked to submit their contact information online and reviewers may reach out to them.
Please complete this application form. The deadline to apply is February 28, 2022. With questions, contact Melissa Thomas.