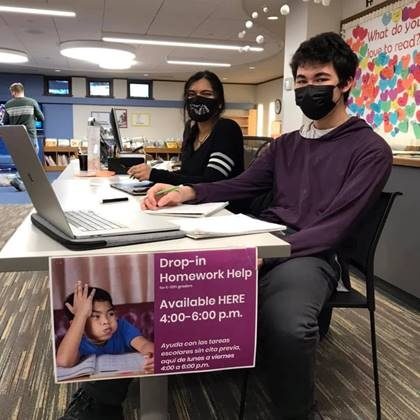 Each year, the CCCE and the Student Employment Office partner with local schools, government, and nonprofits to offer off-campus Community Based Work Study (CBWS) positions to eligible Carleton students. The aim of the CBWS program is to connect Carleton students to the broader Rice County community by creating mutually beneficial relationships with the CCCE's partners.
The Northfield Public Library has a long standing partnership with Carleton's CBWS program, offering multiple positions for students to gain experience in various areas of the Library's work. Current and previous work study positions at the library include an Adult Services Associate, a Youth Services Associate, a Circulation Aide, a Spanish Language Programming Assistant, and a K-12 tutoring position. These positions have fostered partnerships between Carleton and the Library with students serving as the bridge. We heard from Emily Lloyd, Youth Services Librarian at the Northfield Public Library, who spoke to this bridge building: "In addition to the added capacity, partnering with CBWS is exciting to me in that it breaks down the barriers between town and college, on both sides."
Along with building bridges between Carleton and the community, CBWS creates mutually beneficial relationships by having students serve a need in the community while they gain real-world experience and get paid for their work. Volunteering is not always an option for students, so being able to contribute to the community through a paid position helps make community work more accessible. Lloyd spoke to the value Carleton CBWS students have added to the library's tutoring program specifically:
We absolutely could not have implemented sustainable, Monday through Friday, Drop-In Tutoring Hours at the library without CBWS students! The demand for tutoring in Northfield is great—even more so in COVID-19 times—and it's been wonderful to have the added capacity to address true community needs."
While CBWS positions hope to serve a need in the community, they also help students feel more connected to their community and allow them to make a contribution to the community in a way that's accessible to them.
I think it's valuable for students to have some kind of work or activity that takes place off of the isolation of campus, in a community where they encounter more people who aren't 18-22. And it "demystifies" the college for town-dwellers to see Carleton students out and active in serving not just the Carleton community, but the Northfield community, too." 
Building bridges and mutually beneficial relationships are not only good for the community, but can be enjoyable and memorable for everyone involved. In the CCCE, we frequently hear from community partners about how much they enjoy working with Carleton students. Kathy Rush, Technology & Circulation Services Manager at the Library, shared that she has "enjoyed our relationship with the CCCE because of the wonderful students we have gotten to know."
The CCCE is grateful for the work of our community partners, and especially to the Northfield Public Library, for creating meaningful opportunities for CBWS students to connect, learn, and contribute. If you're a student who qualifies for CBWS, check out the CBWS section of the CCCE website or reach out to Anna Schumacher, 5th Year Education Associate, to learn more about the program and see current open positions. Eligibility is connected to students' financial aid package – please reach out to the Student Employment Office to check on your status.