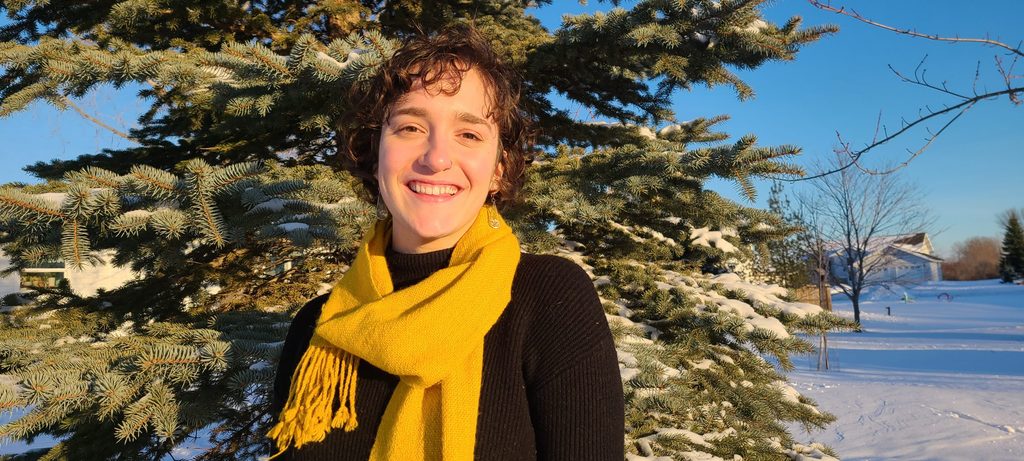 Anna Schumacher has a lot on her plate. From her work as a CCCE fellow, as House Program Manager for the Wellstone House of Organizing and Activism, and at HealthFinders Collaborative, ISAIAH, and Faith in Minnesota, she has, as she puts it, "a spoon in almost every single bucket in regards to activism." Recently, she talked to us about her background in community-engaged work and how it led her to her current path.
Anna was raised in a small town in northern Minnesota, and credits her history of community-engaged work to her upbringing and education in the Catholic Church, with its grounding in "service and equity and being engaged with communities." While this experience was influential, it had problematic elements, and she says her civic engagement priorities have since shifted "from charity to solidarity." "As I've grown in college," she explains, "I've realized that acts of service only get you so far."
Over Anna's college years, a few formative experiences helped her articulate her approach to civic engagement. As a sophomore, she studied abroad in Chile and witnessed a social insurrection, with "months and months of million-people protests that resulted in the rewriting of their constitution."
"That was my first experience seeing really massive social protest," she says. "It was jarring and I made plenty of mistakes and learned a lot from that experience. And then I came back to the US, and I started thinking a lot more about what systems of oppression look like and what it means to address them."
After studying abroad, Anna spent the summer as an organizing intern with the Industrial Areas Foundation Northwest, which also shaped her thinking. She explains the IAF approach to organizing as "keeping one foot in the world as it is and one in the world as it should be," and says, "I've adopted that as my approach to community work, where I need to be on the ground addressing needs while simultaneously creating the conditions for a more just and liberatory future."
She explains the Industrial Areas Foundation Northwest approach to organizing as "keeping one foot in the world as it is and one in the world as it should be."
Civic engagement has been core to Anna's Carleton experience, and she encourages all students to get involved. A series of ACE courses helped her discover a passion for public health, a field through which she hopes to continue to practice the ideas and skills she's developed through community work. 
"See how you can fit it into your life healthily, because at Carleton there's a lot of demands on our schedules—but I found that it added so many layers of learning and growth to my experience at Carleton … I would say go talk to someone, get it figured out, find something you're passionate about and a way to apply what you're learning to the greater world."