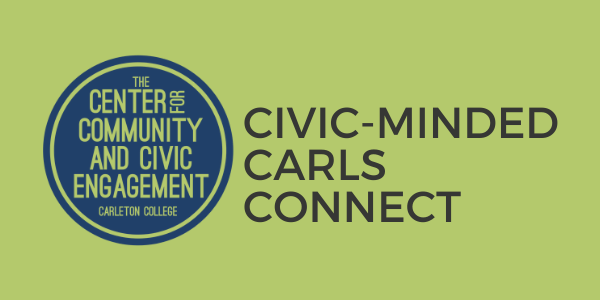 In 2021, participating students were matched with an alum from the Class of '96 to have a conversation together via zoom about finding a life path that allows one to make a difference on the social issues they care about. This first pilot of Civic-Minded Carls Connect is now complete. To receive updates about upcoming opportunities, contact Sinda Nichols.
What students took away from their conversations with civic-minded alumni in 2021:
"I was reaffirmed by our conversation to not only seek out where I best fit (everyone has a place, and everyone's place is different) but also to trust in others and remember that this fight is not a burden to take on alone but rather a movement towards change that can and will happen."

"Many of the lessons taken from engagement at Carleton and organizing to make change within the institution will continue to be useful long after college."

"One thing I am taking away from this conversation is that sometimes it may be difficult to find work that I may consider meaningful due to other factors such as financial circumstances, location, support from others, etc. I've learned that while this may prevent or limit me, there are still ways to be connected to my values outside of just the specific role I am given at a job."

I'm taking away "the value of talking to people about their experiences post-college and getting to hear about non-linear life paths."

I'm taking away "a much better understanding of how non-profits and other organizations adjacent to politics and government work to support them."

Takeaways from participating Carleton students in 2021
Students: Are you interested in a life path that allows you to make a difference to the social issues you care about? Are you curious about how Carleton alumni have worked toward social justice while having full careers and lives? If you would like to hear real-world stories and ask honest questions without the pressure of a career conversation, Civic-Minded Carls Connect will match you with an alum.
Alumni: Are you interested in connecting with civic-minded Carleton students and supporting them in their journey? Are you willing to share about your own life path and lessons learned as you strive to make a difference on the social issues you care about? Please join us for Civic-Minded Carls Connect if you are engaged in tackling issues of shared community concern — personally or professionally — or if you would like to be.