Maybe you have seen the tour groups walking around on campus now! They were not the only group to get to finally return and tour campus.
This summer, the TORCH Summer Scholars made time to visit the Carleton Campus in late June. The group is from the Northfield Middle School and is made up of rising 6th through rising 9th graders. The tour included a stop by the Admissions Office to pick up a Carleton backpack, then traveled around campus viewing various important spots like the Sayles-Hill Cafe, Post Office, Leighton Classroom, Library, and pictured here a stop at the William's sculpture on the lawn between Boliou and Lyman Lakes. Students were able to talk briefly with Director of the Center for Community and Civic Engagement (CCCE), Sinda Nichols, to hear about how students can connect with the local community and how ACE classes provide hands-on experiences along with academics and Director of Health Promotion, Janet Lewis Muth, to hear about how students handle pressures of a rigorous college experience and work to continue both mental and physical health.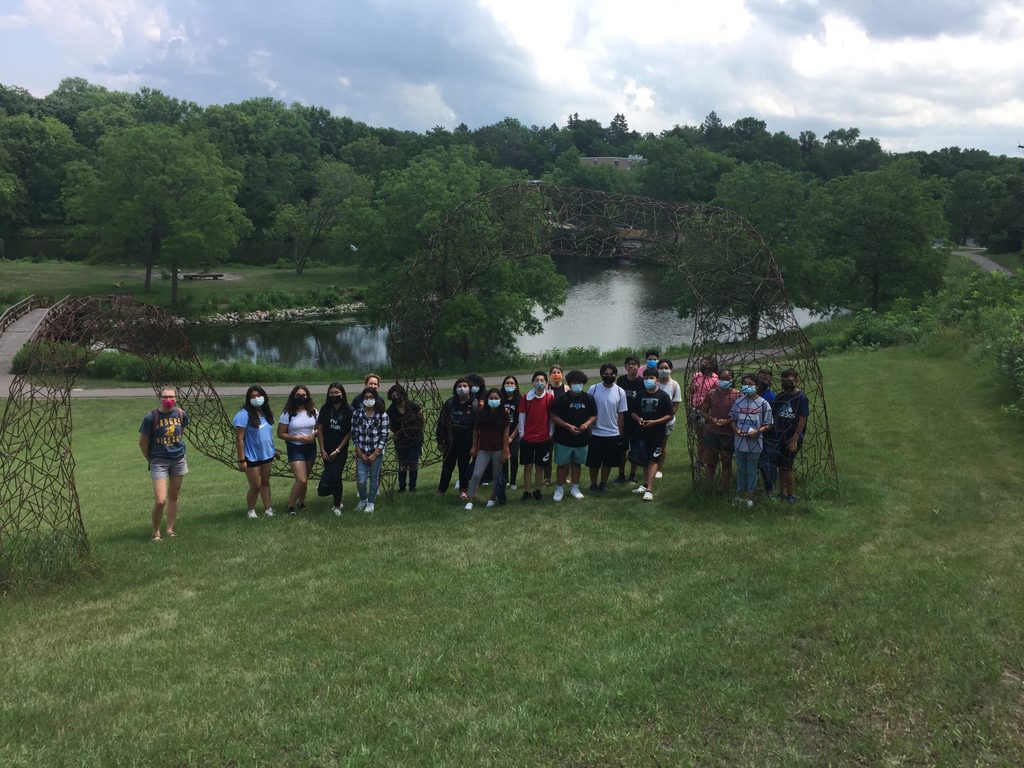 The tour continued to the Hulings Hall where Professor of Biology Daniel Hernández spoke about his classes and shared interesting facts about the Carleton Arboretum. Professor Hernández then led the students to a Geology lab where they spoke with Jaren Yambing ('22 geology) and Ella Milliken ('22 biology) who were working on summer research projects with Assistant Professor of Geology Dan Maxbauer on on greenhouse and field experiments that are designed to test crushed silicate rocks as soil amendments in agriculture. Weathering of silicate minerals consumes atmospheric carbon dioxide and releases mineral nutrients into the soil. Amending agricultural soils with crushed silicate rock powders then is suggested to sequester carbon out of the atmosphere while providing co-benefits to farmers. Yet, there are very few field data available to constrain how well these types of soil amendments work. This project will run for several years in partnership with Mike Peterson, a local farmer who has had a longstanding relationship with Carleton, studying the effects of crushed silicate rocks on crop yields, soil properties, and carbon sequestration.
Carolyn Ward, Carleton 2019, organized the tour for the Northfield Middle School TORCH and was assisted by Alexa Kong '23 a CCCE Fellow, and Melissa Thomas, P'04, and Operations Coordinator in the CCCE. Carleton hopes to see some of these inquisitive young people in the admissions pool in a few years.