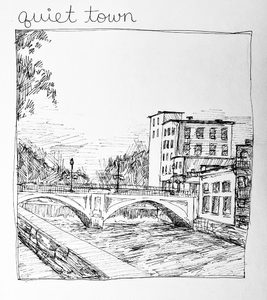 Last week, through the collaborative work of the CCCE and ACE, Carleton students and staff released Quiet Town, a self-described "quarantine chapbook," a collection of creative written pieces and visual art made by Carls addressing "themes surrounding the COVID-19 virus and pandemic through a collection of Carleton College student poetry and artwork."
The idea had come about in English Professor Greg Hewett's spring 2020 poetry workshop, and it materialized through the support of the CCCE and ACE, along with the contributions of our own Emily Oliver. The collection was compiled and edited by Avery Davis '20.
While the Quiet Town PDF is free to read, there is a suggested $5–10 donation to the Northfield Community Action Center (CAC), which has been on the front line leading active relief efforts during the COVID-19 pandemic. 100% of donations will go to the CAC.
You can access Quiet Town below and donate to the cause on the Northfield Community Action Center website.