The annual Student Involvement Fair is approaching fast! This Friday, September 20th from 5:00pm to 7:00pm students will be tabling on the Bald Spot for various Carleton clubs and organizations.
The fair is a great way for new and returning students to gain information on the numerous ways to get involved in co-curricular activities. The Center for Community and Civic Engagement is kicking off our year here, with fellows and program directors representing civic engagement opportunities on campus and in the greater Northfield area.
Students new to campus will find that the CCCE offers a wide range of volunteer programming within the umbrellas of our four focus areas—Education, Health and Wellbeing, Peace and Conflict, and Environmental Systems. Not sure which of our many programs would match your volunteer interests? We made a chart to help you figure that out!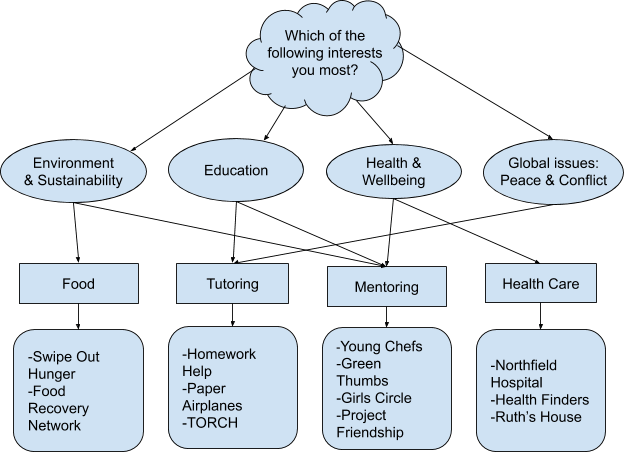 Student leaders will be available to answer questions about weekly time commitment, transportation, what volunteering looks like on a day-to-today basis, and any other general information about the program. The flow chart captures just a selection of what the CCCE has to offer. Check out our website to find out more about our full list of volunteer activities.