Empty Bowls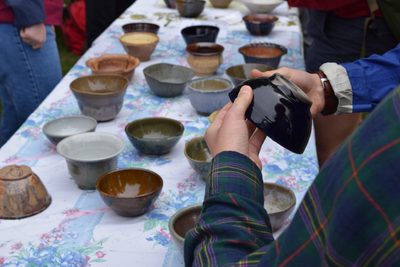 Professor of Art Kelly Connole started Carleton's version of the Empty Bowls event when she came to campus in 2004. The Empty Bowls project, founded in 1990, has become a prominent national and international movement with local potters, churches, artist organizations and schools raising funds and awareness to address hunger.
Since its inception in 2005 at Carleton, the project has raised over $91,000 for the Community Action Center of Northfield (CAC) food shelf. This event is co-sponsored by Carleton's CCCE and Carleton's Department of Art and Art History.
---
Lighten Up!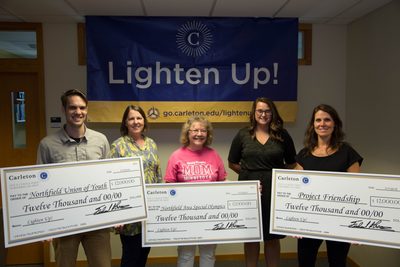 Each Spring Carleton College students donate unneeded items to the Lighten Up Garage Sale. Students donate a variety of items including: clothing, winter apparel, furniture, household items, books, bedding, sport equipment, and other fun things!
The proceeds provide essential funds for community non-profits and also served as an excellent lesson in "green" living and waste management. The 2019 Lighten Up Sale raised $37,300 for Northfield Union of Youth, Project Friendship, and Special Olympics.
The sale is held annually in Carleton's Laird Stadium the weekend after Reunion (though the 2020 sale was cancelled due to the COVID-19 pandemic).
For questions about the sale, email lightenup@carleton.edu
---
Into the Arb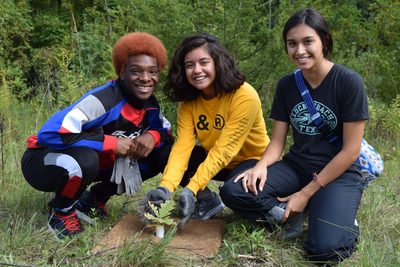 Into the Arb takes place in early September as part of the New Student Week schedule for incoming students at Carleton. About 500 new students, their New Student Week leaders, the CCCE staff, and Cowling Arboretum staff and volunteers spend the day together planting trees, learning about Carleton's fantastic arboretum, and getting to know one another.
In previous years, students have worked together to remove buckthorn, an invasive species in Minnesota. This event is a collaboration between the Cowling Arboretum and the CCCE.