Nov
3
Dialogue Across Political Divides: How to Have Conversations When You Disagree
Thu, November 3, 2022 • 5:00pm - 6:00pm (1h) • Sayles 253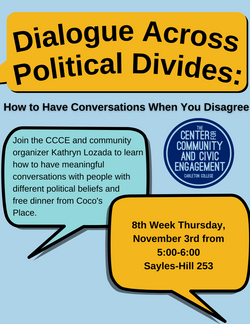 Do you want to better understand how to have productive dialogue with people who hold different political views than you? 
If your answer is yes, come to Sayles room 253 at 5:00pm on Thursday, November 3rd. Carleton alum and community organizer, Kathryn Lozada is coming to campus to facilitate a community

conversation

 centered on how people who hold different political views or backgrounds 
can have meaningful conversations
. 
With the election drawing closer, many us struggle to connect with friends or family whose political opinions do not align with our own. Lozada will provide strategies that help maintain, or even build, relationships in spite of political difference. This aim of this event is not to disregard or "work around" oppositional views, but rather to dive deeply into the origins and motivations of our political believes.