Sep
5
New Student Week Pop Up Sale
Tue, September 5, 2023 • The James/Cassat Parking Lot in a POD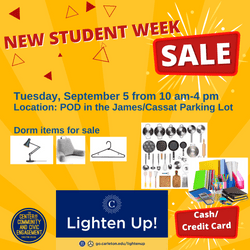 A part of the Lighten Up! Garage Sale that took place in June. Dorm-specific items have been pulled and are now available for resale during New Student Week . Come and purchase hangers, lights, dorm items of all sorts at excellent prices. Save the planet by not adding to the waste.
Tuesday, September 5 from 10 am - 4 pm
In the James/Cassat Parking Lot in a POD.