Apr
7
Coffee and Donuts in CCCE - Empty Bowls Theme
Fri, April 7, 2023 • 9:30am - 10:30am (1h) • Sayles-Hill 151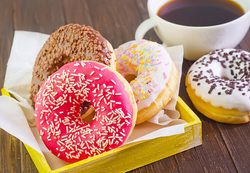 Drop in for free coffee & donuts to learn more about Carleton's Empty Bowls Event happening in the spring term of 2023.
https://www.carleton.edu/art/events/empty-bowls/
This week will be hosted by Melissa Thomas, Operations Coordinator. All are welcome to hear more about how the long-running event founded in 1990, which has become a prominent national and international movement with local potters, churches, artist organizations and schools raising funds and awareness to address hunger. Professor of Art, Kelly Connole started Carleton's version of the Empty Bowls event when she came to campus in 2004.
Remaining Spring Term Coffee & Donuts will be on Fridays 9:30-10:30 am on even weeks: April 21, May 5, May 19, June 2. 
Event Contact: Melissa Thomas