May
5
Coffee and Donuts in CCCE - Lighten Up! Theme
Fri, May 5, 2023 • 9:30am - 10:30am (1h) • Sayles-Hill 151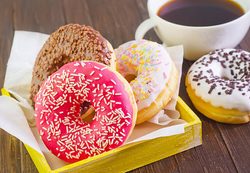 Drop in for free coffee & donuts to learn more about Carleton's Lighten Up! Event happening in the spring term of 2023.
https://www.carleton.edu/ccce/initiatives/lighten-up/
This week will be hosted by Erica Zweifel, Assistant Director for Community Impact. All are welcome to hear more about how the long-running event. Come by and hear all the details: When and where is the sale? Who can shop at the sale? How do you pay? How is the sale set up? What happens to unsold items? What is the mission of Lighten Up?
Remaining Spring Term Coffee & Donuts will be on Fridays 9:30-10:30 am on even weeks: May 19, June 2. 
Event Contact: Melissa Thomas