Apr
1
SEXploration 2022
Fri, April 1, 2022 - Sat, April 30, 2022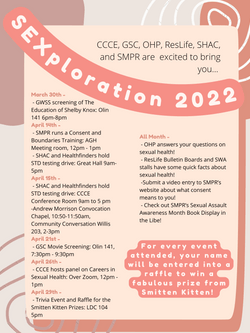 Join us (CCCE, GSC, OHP, ResLife, SHAC, and SMPR) for this year's SEXploration!
What does this mean, you ask?
Great question! All throughout the month of April, events will be held that focus on sexual health and wellbeing. This includes everything from film screenings to STD testing drives to RA bulletin boards. For every event you attend, your name will be entered into a raffle for a wonderful prize box from Smitten Kitten. The winner will be announced at the final event, a trivia night!
Event Contact: ezwiefel, baggetts, gaoa, horia