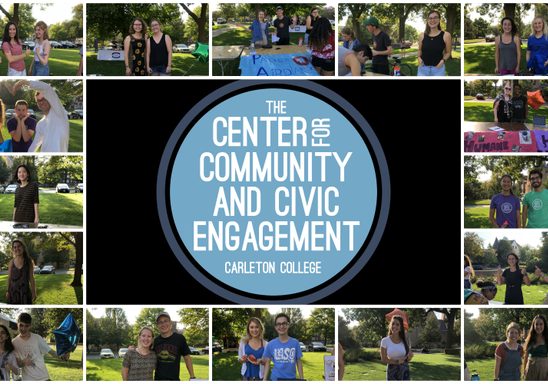 Carleton College Center for Community and Civic Engagement
During Spring Term, the CCCE will operate a virtual Welcome Desk via Zoom, Tuesdays and Thursdays, 12:30 to 1:30 p.m. CST. The physical CCCE will not have standing open hours during Spring Term. Fellows and Program Directors have OneCard access to the CCCE to pick up and drop off supplies. Please limit visits to less than 15 minutes. If you need additional access, please contact ProStaff. If your OneCard is not working, please contact Melissa Thomas (mthomas@carleton.edu). If you would like to meet with the CCCE professional staff, please add a Zoom meeting to their Google Calendar:
Creighton Brown, cbrown2@carleton.edu
Education Equity | Peace, Conflict, and Democracy
Student Resources
Sinda Nichols, snichols2@carleton.edu
Director | Civic and community engagement consultation
Emily Oliver, eoliver@carleton.edu
Ellie Garran, egarran@carleton.edu
Academic Civic Engagement and Scholarship
Melissa Thomas, mthomas@carleton.edu
Communications | Logistics | Operations
Alan Zheng, zhenga3@carleton.edu
Community-Based Work Study
Erica Zweifel, ezweifel@carleton.edu
Food and Environment | Health and Belonging
Community Partnerships
The Center for Community and Civic Engagement (CCCE — pronounced "trip-see-ee") connects the Carleton community to its broader public purpose and contributes to students' preparation for life after Carleton as civic-minded graduates.
We are a hub for:
Real-world learning that contributes to a more just, thriving, and sustainable community;
Reciprocal community-campus partnerships that advance shared goals; and
Civic agency and collaboration in the public sphere that is attentive to equity, power, and positionality.
We support Academic Civic Engagement courses, student-led community initiatives, fellowships, volunteer opportunities, community-based work study jobs, and more. Our focal issue areas include Food and Environmental Justice, Educational Equity, Health and Belonging, and Peace, Conflict & Democracy.
Civic learning and community engagement are a key part of the Carleton experience. 63% of senior respondents said they've applied their academic learning through an assignment in the community. Outside of the classroom, 59% have volunteered in the community and 30% participate in politics beyond voting (Enrolled Student Survey, 2019).