The Weitz Fellows Program
Carleton-exclusive opportunities for seven graduating seniors in the nonprofit sector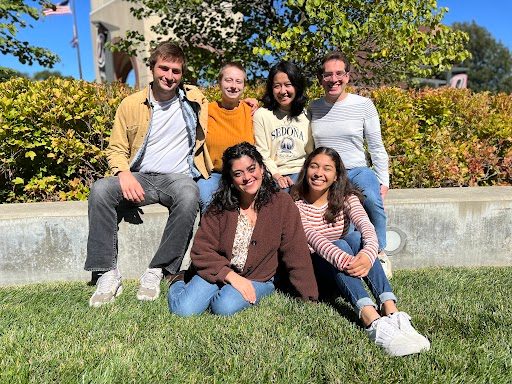 The Weitz Fellows Program provides one-year, full-time jobs for seven Carleton grads at seven nonprofit organizations in Omaha and Lincoln, Nebraska. Positions are paid, include benefits and funding for professional development, and provide cross-functional, professional experience in all aspects of the fellow's organization. This is an unparalleled opportunity for anyone interested in beginning a career in advocacy & education, arts & film, law & policy, or nonprofit management.
PROGRAM UPDATE for 2023-2024
The Weitz Fellows Program will pause for the 2023-24 academic year. As a result, we will not have any Weitz Fellows for the 2024-25 fellowship year.
The Weitz Family Foundation is going through a number of changes as it builds its infrastructure and sustainable systems. Given this moment, it seemed like a natural place to pause and reflect on the Weitz Fellows Program. The program has had incredible growth and made a significant impact in the Omaha and Lincoln communities. Since 2011, a total of 66 Weitz Fellows have participated in the program through fellowships at 14 non-profit organizations.
Going forward, we want to take this time to intentionally redesign the fellowship program to continue providing a great experience for Carleton graduates and supporting the great work being done in the non-profit communities in Nebraska.
Our current plan is to take a one year pause in the recruitment, selection, and placement processes for the 2023-24 academic year. Our goal is to relaunch the next iteration of the program in the 2024-25 academic year. In the meantime, we will continue to support the current Weitz Fellows in the same ways we have supported every preceding cohort of fellows.
For more information or if you have any questions, please contact Chad Ellsworth.
---
Positions
Advocacy & Education
Autism Action Partnership (New for '23-'24)
Autism Action Partnership serves the Nebraska autism community through targeted programs that promote support, inclusion, and prosperity. Through their work, they work to improve the quality of life of persons on the Autism Spectrum and their families through education, advocacy, and support, thereby enabling them to be an integral part of the community. View the job posting.

University of Nebraska, Omaha Service Learning Academy (Former Fellow: Nhan Le '21, Major: Geology)
The Service Learning Academy develops and maintains relationships with the Greater Omaha nonprofit community, as well as government entities and others who serve the good of the community. As an office within the University, the Service Learning Academy supports university faculty and students, P-12 teachers and students, and community partners in the development and implementation of quality service-learning courses and projects. Work includes collaboration with faculty, staff, students, and community stakeholders, community involvement and outreach, program administration and management, and data analysis on the impact of the Service Learning Academy's work. View the job posting.

Women's Fund of Omaha (Current Fellow: Emily Schulenberg '22, Major: Statistics)
Women's Fund of Omaha focuses on research, grants, and advocacy around issues facing women and girls in their communities. They provide grant funding to service providers, advocate for policy change, and influence dynamic change within the community. The fellow will assist with research, policy development, communications, and donor and volunteer relations. Research areas include economic conditions, domestic violence, and challenges facing girls. View the job posting.
Arts & Film
Film Streams (Current Fellow: Isabel Anderson '22, (Majors: Cinema and Media Studies, English Creative Writing)
Nonprofit arts organization dedicated to enhancing the cultural environment of the Omaha-Council Bluffs area through the presentation and discussion of film as an art form. The organization oversees two wonderful and distinct cinemas: the Ruth Sokolof Theater, and the historic Dundee Theater. View the job posting.

The Union for Contemporary Art (Current Fellow: Ty Quigley '22, (Major: Studio Art)
The Union for Contemporary Art strengthens the cultural and social landscape of our community by using the arts as a vehicle to inspire positive social change. The organization was founded on the belief that the arts can be a vehicle for social justice and greater civic engagement; we strive to utilize the arts as a bridge to connect our diverse community in innovative and meaningful ways. The fellow will be immersed in all aspects of our organization including development, operations, programming, grantmaking, and community outreach and partnerships. The fellow will also work on an impactful individual project while with us. View the job posting.
Law & Policy
Nebraska Appleseed Center for Law in the Public Interest (Current Fellow: Clarissa Guzman '22, Majors: Sociology/Anthropology, Educational Studies)
Nebraska Appleseed is an advocacy organization working for justice and opportunity in Nebraska via legal, policy, and civic engagement work. They focus on economic justice, healthcare access, child welfare, immigrants, and communities. Fellows will engage in relationship building at all levels, event planning and coordination, and will participate in creating active legislation alongside a staff of attorneys, policy specialists, and community organizers. View the job posting.
Nebraska Civic Engagement Table (Current Fellow: Arlo Hettle '22, Majors: Political Science/International Relations, Educational Studies)
The Nebraska Civic Engagement Table works with nonprofits across the state to increase nonpartisan civic participation and fight for a multiracial, representative democracy that works for all communities. They do this by providing direct core support, technical tools, and collaborative spaces to member nonprofits to support year-round civic engagement. Fellows will collaborate with Nebraska Table staff and members through public policy work, grassroots advocacy, and other civic engagement activities to drive change. View the job posting.
---
Fellow Highlights
The fellowship allowed me to develop research and writing skills in relation to work that is meaningful and interesting to me. My time at the Women's Fund helped me clarify my career goals and recognize my interest in state-level public policy work. Landing in a new place without connections was really daunting, and it can still feel difficult every once in a while even in my second year here, but the support from an amazing group of colleagues and a built-in support network gave me the confidence I needed to build community in Omaha and call it home.

Natalia Tu '21, Sociology/Anthropology, Chinese (Women's Fund of Omaha)
My fellowship helped me to understand how nonprofits run, and what life working for a nonprofit would look like. I'm hoping to move into political marketing/communications, and working at Appleseed helped me to realize that I'm interested in a combination of writing, working with people, and using digital tools. While I loved my work at Appleseed and the policy-centered work, through that work I realized that I'm more interested in the political side of policy work. I think it's super important for the fellowship to help not only with what you DO want to do, but also with what you DON'T want to do!

Nora Brown '19, Philosophy (Nebraska Appleseed Center for Law in the Public Interest)
After my fellowship, I was offered a role as Programming Assistant, a new role at my fellowship site to continue the work I was doing. The work I did there gave me the experience and network that made me a perfect fit for my current role as a Film Programming Manager in Atlanta.

Kenneth Laster '20, Cinema and Media Studies, and Women's and Gender Studies (Film Streams)
---
The fellowship taught me a lot about professional and personal growth…Ultimately, I decided to move in a direction with a more clearly defined field (energy and climate), but the professional elements of the job are things I have brought into my personal life (volunteering, understanding community, asset-based thinking, etc.). Moving to a place where I didn't know anyone and had no connections was scary after leaving Carleton and at times it was really hard. But, I learned a lot about building community and understanding new places and was ultimately the best thing I could have done after Carleton.

Jenna Greene '17, Environmental Studies (University of Nebraska Omaha Service Learning Academy)
---