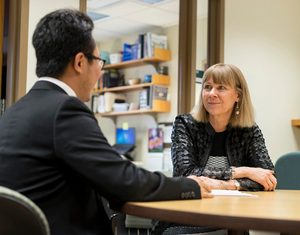 8 Steps to a Job or Internship
So you're looking for a job or internship? Use the following steps to get started in your search. Once you have reviewed this information, we encourage you to meet with a career coach to discuss any of these steps in the process. We are here to help!
1. Focus Your Search
Take some time to think about what you want in a job. Considering the location, setting, values, and motivations can help you narrow your focus.
Location – Would you like to work abroad? Is it important to be close to family?
Setting – Do you have a preference on a larger organization versus a small start-up business? Would you prefer to be in the private sector, a nonprofit, or government?
Values/Motivation – What type of things make you tick? What are your main priorities in work? Things to consider are salary, work-life balance, ability to work with people versus on your own, travel, training, and making a difference.
2. Do Your Research
Once you've focused your search, do your research on organizations, as well as available opportunities that meet those criteria and create a list of what you find. Your best bet is to do a diversified approach that consists of:
3. Start the Paperwork
Before you start outreaching, you will need a résumé and cover letter (at minimum), as well as an unofficial transcript, list of references, and writing sample(s). A résumé can also be helpful for a networking contact to get a snapshot of your experience thus far. (See Navigating the Application Process for more information)
Even if you've been successful in interviewing for college admissions, fellowships and summer work/service, this is a different type of interview. It is important to practice and prepare for interviews while you are in the application process so that you are ready if the employer calls and wants you to interview the next day. Schedule a practice interview with a career coach at any time.
5. Get Organized
Before you initiate contact with hiring managers and alumni, you will want to set up a system for tracking résumés submitted, networking contacts, interviews, a list of organizations and other helpful websites and resources. The
6. Network / Initiate Contact
80% of jobs are found through networking or personal contacts! Search the Alumni Directory to find alumni to connect with for an informational interview. Learn more information about your contact's career trajectory, industry, job, organization, and tips on breaking into their field of work. (See Networking for more information)
7. Apply for Opportunities
Although most opportunities are found through networking, getting your résumé and cover letter submitted through the method and timeline requested by the employer will ensure you do not miss out on any great opportunities. Don't get too caught up in the preparation to apply. Use Handshake, LACN, and other great resources to make yourself a competitive candidate for these positions. 
8. Follow Up
Always write a thank you note after a contact is made, especially personal visits and telephone contacts. You can also reaffirm your interest, check your status, and keep your name in the employer's mind by reaching out after a week or two of your initial contact.