Resources for Parents & Families
How can you best support your student (and other Carleton students)? The topics below explain how you might help your individual student as well as how you can help the Career Center by participating in our programs. We are excited to partner with you as your student learns, explores, grows, and eventually determines a path to follow after Carleton.
How to Support Your Student
Carleton is committed to preparing students for fulfilling post-graduation lives and careers. We believe that career development is an integral part of the Carleton experience, and are dedicated to providing resources, tools, and programs that allow students to progress in an individually-tailored, developmental arc that spans the four years students are on campus.
Parents and families can assist their student by encouraging them to meet regularly with a career coach, participate in Career Center programs, and read Career Center communications.
The Career Center works with all students, regardless of where they are in their career development journey. If your student is hesitant to meet with a career coach because they don't already have a clear career path in mind, please reassure them that we are happy to meet them wherever they are in their exploration and planning.
Ways to guide and encourage your student
Here are some ways in which we engage with students throughout their time at Carleton. Encourage your student to participate in programs and activities that meet their particular needs and interests.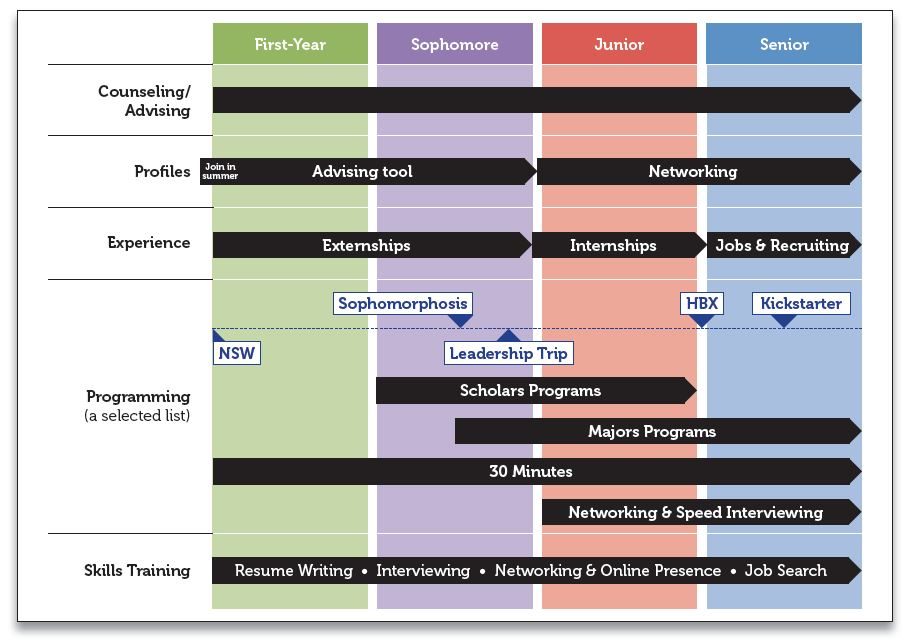 A few key points to remember:
Externships are a great way for students to start their career exploration process early. Carleton's growing externship program has put particular focus on creating opportunities for first-year and sophomore students. While externships are open to students in every class year, we especially encourage first-year students to apply.
Internships are critically important experiences for students to learn in-depth about a career field of interest, and to build their network and résumé. Most employers expect students to have completed at least one internship during their college years. Keep in mind that Carleton has funding available to support students undertaking unpaid and low-paying internships, so that students from all financial backgrounds can gain this experience.
Job interviews start early in the fall of senior year. Students should return to campus senior fall with a polished résumé and an interview suit.
Career Center Communications
The Career Center communicates with students in many different ways. All students receive a weekly Career Center email highlighting upcoming deadlines and programs. Please encourage your student to read these messages!
If you're interested in keeping up with Career Center events and opportunities, you can follow us on Facebook and Twitter. You can also check our events calendar regularly to keep up with what's happening.
Websites
How to Help All Carleton Students
Parents offer valuable information and experience to students regarding career paths, industry expertise, potential employers and much more. Consider participating in one of the Career Center programs listed below:
Carleton externships are one- to three-week career preparation and exploration experiences. Each December, alumni, parents, and friends of Carleton host students at their workplaces and provide exposure to jobs in a wide variety of career fields. Externships are unpaid job shadow and/or short-term project opportunities that give students the chance to experience a workplace or industry area first hand, with just enough depth to learn if they would like to pursue further experiences in that field. Carleton parents, alumni, friends of the college, and organizations interested in Carleton talent are encouraged to become hosts.
Internships are an important experience to prepare Carls for the world of work. Interns are mentored by hosts and will be supported by the Career Center to maximize engaged learning and professional development throughout the internship.
If you or your place of business are looking for bright, young talent for your full-time hiring needs, we would love to help connect you with Carleton seniors and recent alumni. We can also create a virtual or in-person interview schedule to make the process as easy as possible. Post the position in Handshake and/or connect with Andrea Kubinski, Recruiting Program Coordinator, at 507.222.5511 or recruiting@carleton.edu.