This is the first in a series of interviews about how Carleton students are spending their summer. Lynn Barbera is a junior Cinema and Media Studies (CAMS) major from Scottsdale, Ariz.
What are you doing at Carleton this summer?
I'm a Dacie Moses House Summer Resident, so I'm working at the house. I work at Dacie Moses during the school year, and my boss asked me to stay on for the summer. I really love Dacie's and thought it would be interesting to actually live at the house because that means putting on summer events, hosting brunch every Sunday, and meeting a lot of families/alumni who book the guest room here, so I decided to stay!
What does a day in the life look like?
I wake up at 8:15 to my roommate opening the blinds (thanks, Brynne Diggins!), then get up and have coffee on the Dacie's porch (beautiful!). I spend some time answering emails and booking guests for the Dacie's guest room, and maybe drawing up some flyers for a special Dacie's summer event. Then I'll try and tackle a big cleaning job in the house like reorganizing the linens closet (exciting stuff) or tearing apart the old shed (lots of shovels!). I'll bake some cookies if the tin is empty. I have a few free hours in the afternoon to spend reading or working on stuff for my abroad program—if it's nice out, I'll go to the Bald Spot otherwise, I have the whole Libe to myself.
In the afternoon, Brynne and I go to a yoga studio in town to sweat it out with a group of middle-aged Northfield women, and on our way back we talk exclusively about what we're going to have for dinner. Back at Dacie's, we cook an elaborate meal (most recently, sweet potato taquitos—yum) and chat about our lives/food/the new Lorde album. After we're so, so full, we'll work on planning official Dacie's business—discuss upcoming events and decide on more things to bake for brunch. Then we'll make a pan of carrot bread or maybe zucchini muffins (while listening to Lorde, obviously), then settle in for an episode of Orange is the New Black before sweet, sweet sleep.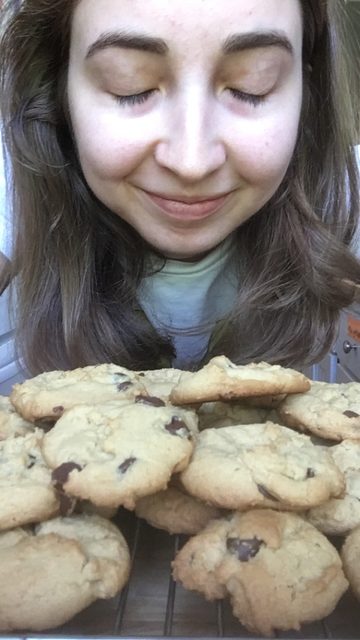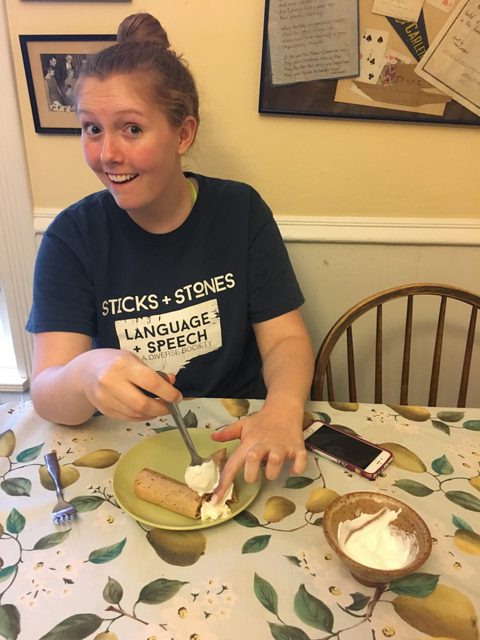 What is it like being on campus for the summer?
I really like this Northfield summer so far! It feels like a very different experience of Carleton because I'm living just a little off-campus, and I don't spend much time at the places I do during the school year, like LDC or Sayles. It's a very chill, not so stressful vibe. My favorite thing is that I can ride my bike in the middle of the street around the cute Northfield neighborhoods.