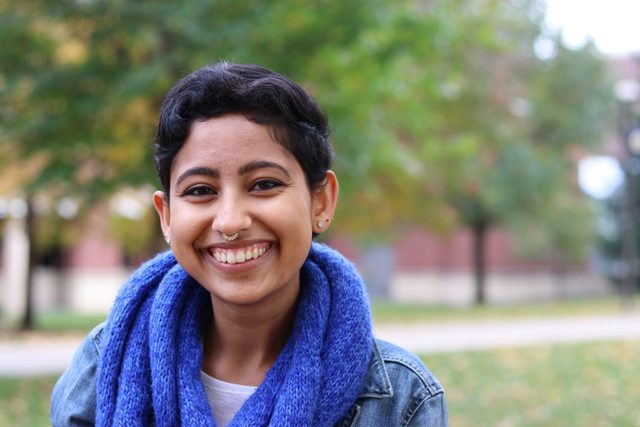 How are Carls spending their summer? We chat with Apoorva Handigol '19, a junior sociology/anthropology major from Fremont, California.
What are you doing this summer?
I am a Health Equity Intern with the community organizing nonprofit, Industrial Areas Foundation Northwest in Seattle. The health equity initiative serves to empower patients at Seattle's federally qualified health centers who face inequities in income, race, education, citizenship, and more. As a result of those inequities, they experience disparities in their health outcomes and access to healthcare.
How did you decide to do this? How did this opportunity present itself?
Last fall when I was looking for internships for this summer, I knew I wanted to work in public health, interacting with underserved patients who don't necessarily have the health or resources that they deserve. I found this internship through the Tunnel, and immediately knew that the social justice and community-focused aspects of it would fit perfectly with my passions. After talking over the phone with our incredible supervisor Joe and last summer's interns, I knew this was an opportunity I could not miss.
[[id="1611626″ width="450″ float="right"]]
Tell me about the position.
We work on two main projects: a listening campaign to understand the clinics' patients and the issues and stressors impacting their lives, and a PE campaign to ensure that all elementary students in Seattle's public schools are getting the required 100 minutes of physical education per week. Many of the patients we talk with in the clinics are low-income, struggling to secure safe and affordable housing or a stable job, or facing challenges in getting an education or adequate transportation—a majority have a combination of these pressures. Some are homeless, uninsured, or undocumented. When we meet with patients every day, we ask them about the challenges they endure in their families and communities, and explain that 55 percent of our health outcomes are determined by social and environmental factors, as opposed to only 10 percent by medical care. We invite them to community meetings in which we bring together patients and providers to share stories and connect on the pressures they face and develop a campaign to address a challenge of the clinic community.
The PE campaign started when family medicine residents found unhealthy childhood weight to be prevalent among their patients in Seattle. Physical education in elementary schools is key to learning how to make healthy choices and it can sometimes be kids' only chance for physical activity throughout the week. However, the majority of Seattle's elementary schools do not follow the state requirement for PE time, especially schools in under-resourced neighborhoods. For this campaign, we have been attending meetings with PE and school teachers, representatives from Shape Washington and the Childhood Obesity Prevention Coalition, and physicians and community organizers. We have also been crafting a presentation to eventually be presented to the Seattle Public School Board, Seattle City Council, and Washington legislators.
Describe a day in the life.
For at least the first half of the day, another intern and I will spend our time talking to each patient individually in the waiting room about their experience coming to the community clinic. We talk about how community clinics began in the Civil Rights era to provide not just medical care, but also social services and community support. The Carolyn Downs Clinic we work in was established by the Black Panther Party, and the Country Doctor Clinic we work in was started by activists as an all-volunteer clinic. We'll talk about how social factors have the greatest impact on our health and ask the patient if factors such as employment, housing, safety, and transportation are posing challenges to them. After hearing their story, we invite them to share at our community meetings so we can determine the stressors most prevalent in the clinic community. We explain that clinic-based community organizing is all about having the patients campaign around the issues impacting themselves and their neighborhoods, empowering them to make the change they want to see happen. If we sense that a patient would be a promising leader, we arrange a one-on-one meeting with them to get to know them and what drives them a little bit better. In the clinics, we also connect with the nurses and physicians, front-desk staff, and social workers and interpreters—who have all been incredibly supportive of what we've been doing, some of whom have taken leadership roles in this work.
What is your favorite thing about your internship?
The people! Whether getting to know patients, providers, or community organizers, meeting new people from various backgrounds and stories is invaluable. In community organizing, we put a lot of emphasis on one-on-one relationships and understanding people's passions, motivations, and dreams. In talking to patients, it has been incredible learning about their journeys and seeing their strength. They have taught me so much, not just about their communities but also about how society works. From a former nurse who gave me reading recommendations on international politics to a graphic designer who opened a school in his native country, learning from patients is humbling and inspiring.
How did Carleton make your summer possible?
Carleton provided me this Social Justice Internship (with three other fabulous Carls) and assisted me with funding it, for which I am very grateful! I am also hosted by a Carleton alum for the summer (shoutout to Sue, Class of '74!) who I found through the Seattle Alumni Club!