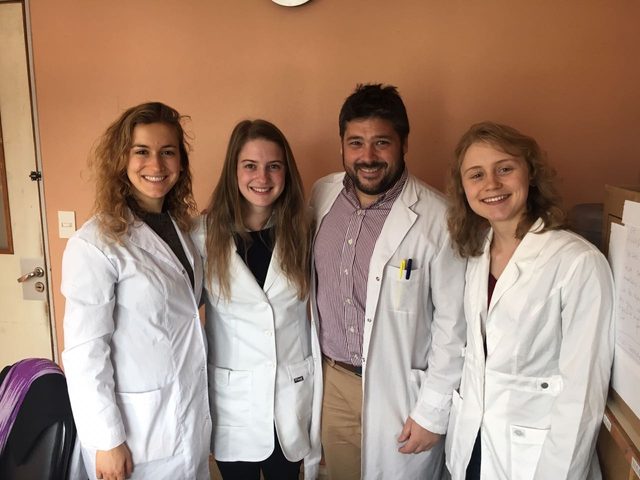 What did you do this summer?
I participated in Carleton's Global Edge Internship Program in Buenos Aires, Argentina. The program placed me at San Isidro Public Hospital where I shadowed doctors in different departments throughout the hospital.
How did you decide to do this/how did this opportunity present itself?
I found the Global Edge internship on the Career Center's website and reached out to some classmates who did the program last summer and had incredible experiences interning at a hospital. I wanted to spend my summer exploring medicine as a possible career path, and also studied Spanish for many years, so this seemed like the perfect opportunity for professional experience while using and improving my Spanish.
Tell me about the position.
The internship involved a lot of freedom to choose what I wanted to observe each day. This was great because it allowed me to see a huge variety of medical practices in my short time there and gave me a feel for all the different things doctors do. Each day I shadowed a doctor, sitting in on their visits with patients and making rounds with them around the hospital. While at first it was difficult to understand medical Spanish terminology, I learned a ton throughout the summer and by the end felt way more confident in following what was going on. The doctors were so helpful in answering questions and explaining what they were doing.
Describe a day in the life.
To get to work, I caught the train from Buenos Aires north to San Isidro at around 8:30 each morning. After arriving around 9, putting on our doctor's coats, and saying good morning to our supervisor, the other interns and I would either get assigned a department to go to for the day or get to choose for ourselves. Some of the departments that most interested me were orthopedics, surgery and oncology. We also sometimes shadowed doctors in the emergency room or inpatient care. Each day was very different so it is hard to give a routine, but because most of the appointments were set for the mornings, by noon things would often calm down and there would be a lot more down time between patients to talk with the doctors and ask questions. Around 1 pm I would leave the hospital for an afternoon of Spanish class, where I could practice what I learned in my internship.
What was your favorite thing about your job?
I got to meet doctors from all over the world and talk with them about their professions. I learned so much about what it is like to practice medicine in Argentina, the Argentinian healthcare system, and what types of medical specialties I am potentially interested in practicing. Everyone at the hospital was so helpful and welcoming, and made my experience there so worthwhile and so much fun.
How did Carleton make your summer possible?
In every way! Carleton provided funding for me to go to Argentina, and a program that matched me with an internship there. In addition to making the trip feasible, I would not even have thought doing a medical internship abroad was possible without the inspiration of Carleton's program. This would not have been at all possible without the Career Center!