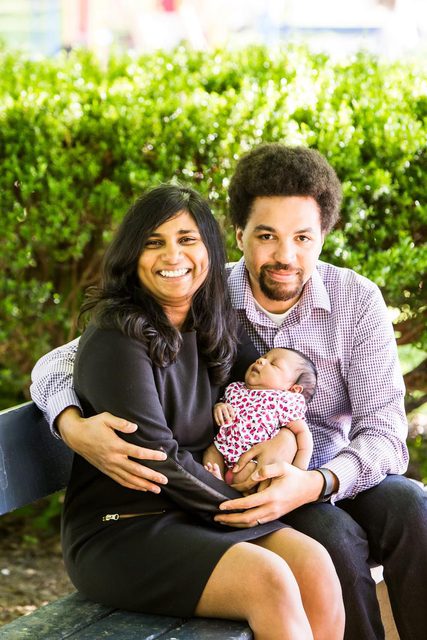 Perhaps it's no surprise that Dashini Jeyathurai '08 is a dedicated Carleton volunteer. After all, her husband, Byron White '08, is a Carleton trustee, Alumni Annual Fund class agent, and Alumni Admissions Representative. And although Jeyathurai's first Carleton volunteer experience was writing a few e-mails to friends about their class gift at White's behest, her work for Carleton began in earnest when she discovered her own passion: helping students plan for their future careers.
"I started getting e-mails from students who were interested in working in technology," Jeyathurai says. They'd found her through Carleton's alumni directory and wanted to know how someone with a master's degree in English had landed at Google. "I'm a big believer in planning for life post-Carleton, so I started nosily getting involved in the Career Center," she says. First, she accompanied White to campus for a Board meeting and used the time to meet one-on-one with students interested in tech careers via the Career Center's 30 Minutes program. Then director Kim Betz '91 invited her to join the Career Center's Alumni Board.
Recently Jeyathurai coordinated a Google visit for students on the spring break Bay Area Careers in Tech Program — one of the Career Center's Scholars programs, which takes students into the field to learn about different aspects of an industry. Jeyathurai planned a panel discussion with other Carls at Google, a Q&A with Google recruiters, and lunch at Charlie's, the biggest café at Google, where "it was fun for students to see Googlers relaxing but also collaborating," she says.
Jeyathurai had a great time planning and attending the event — even though she was nearly nine months pregnant when it happened! (Her daughter, Selma, was born two weeks later, on April 2.) She met some of her Carleton peers for the first time when she invited them to participate in the panel, and she loved seeing students' enthusiasm as they lost their sense of intimidation and began to imagine themselves at a tech firm like Google.
The secret to finding time to volunteer—even for a busy, pregnant Googler—is to find an "anchor cause," says Jeyathurai. "My passion is helping students find the post-Carleton paths they want to be in. Find your passion—and then get involved."
Jeyathurai has a few words of wisdom for those who are unsure about signing up. "Don't assume volunteering has to be a formal role or something that will consume hours and hours of time," she says. "Dip your pinkie in and see if you like it. There's a great tradition of volunteering here, with everyone from recent grads to C-suite executives finding time to do it. You might discover you love it as much as we do."