Carleton's unique trimester schedule incorporates a little over a month of break between Thanksgiving and the first week of January. Although rest and relaxation are usually first priority for Carleton students, the long break also enables students to find a part-time job or internship. Carleton's Externship Program, run by the Career Center, offers students an opportunity to connect with alumni and parent volunteers whose jobs are similar to the students' future career interests. Students spend 1–3 weeks with their hosts at their workplaces for a career exploration experience that usually includes networking, shadowing options, and a focus project.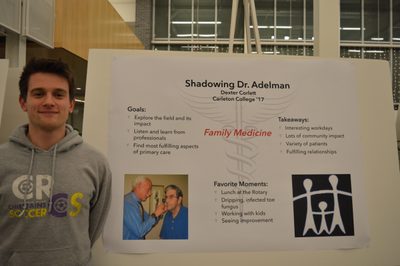 Dexter Corlett '17 spent a week in Raleigh, North Carolina with Carleton alum and family practice physician Dr. Richard Adelman '71. Dexter followed Dr. Adelman into the exam room to visit hundreds of patients, most of whom considered Dr. Adelman a good friend. Dexter was allowed to sit in on the majority of the appointments, giving him a diverse and comprehensive look into the daily life of a family practice physician. Dexter was also invited along on several lunches with the doctor and other committees, including a Rotary meeting that Dr. Adelman was a member of.
As a Pre-Med student at Carleton, Dexter's experience enabled him to explore the sub-field of family practice and receive exposure to the aspects of family practice that appeal most to him. Dexter particularly enjoyed witnessing the behind-the-scenes of a physician's office. He was able to see how Dr. Adelman interacted with each patient not simply as their doctor, but as a friend, confidant, psychologist, and teacher. Exposure to the diversity of this career and the connections made with individuals over time was a highlight of Dexter's week.
Dexter's favorite moment came when Dr. Adelman was faced with treating a man whose toe had swollen up with a fungal and bacterial infection. Dr. Adelman looked at it closely and said 'Wow, that is disgusting,' and wrote the man a prescription. Despite the disgusting nature of the toe, Dexter was able to see how Dr. Adelman easily and confidently treated it. Dexter hopes to emulate this type of confidence someday in his own career. Dexter's experience provided valuable insight into the life of a family practice physician and solidified Dexter's love for medicine and helping others.