Carleton's unique trimester schedule incorporates a little over a month of break between Thanksgiving and the first week of January. Although rest and relaxation are usually first priority for Carleton students, the long break also enables students to find a part-time job or internship. Carleton's Externship Program, run by the Career Center, offers students an opportunity to connect with alumni and parent volunteers whose jobs are similar to the students' future career interests. Students spend 1-3 weeks with their hosts at their workplaces for a career exploration experience that usually includes networking, shadowing options, and a focus project.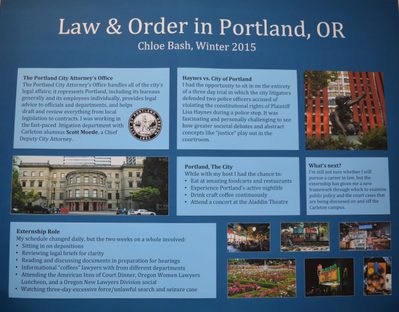 Chloe Bash '17 spent her two week externship in Portland, Oregon at the Portland City Attorney's Office. Chloe externed and stayed with Carleton alum Scott Moede '85, Chief Deputy City Attorney at the law office. The Portland City Attorney's Office serves as chief litigator for the city of Portland and is responsible for all the legal affairs of the City of Portland. Chloe was exposed to the practice of law first hand and followed people in depositions, attended strategy meetings for lawyers, and went to lunch and dinner with various law members. Although Chloe received a diverse exposure to the field of law, one particularly intriguing component of her externship was that she was allowed to sit in on a three-day trial about unlawful search and seizure by the Portland police department. During the trial, Chloe sat with people from the law office who explained the logistics of the case and the trial. After the trial, Chloe was asked what points could be clarified during the trial and thus provided critical feedback to the lawyers and officers about their job.
The in-depth exposure into the law field was a highlight for Chloe, but her favorite part was witnessing the strong community of female lawyers at work. Chloe interacted with the OWLs association, which stands for the Oregon Women Lawyers' association. Chloe said that being able to see women in law was empowering and helped her imagine herself in that position. Along with the exposure to the law field, Chloe was able to explore Portland with her host. Scott Moede '85 showed Chloe around the area, allowing her to get an overview of the lawyer life, but also of life in Portland. Chloe mentioned the food, music scene, and coffee as highlights of Portland. While she is unsure of her future career, this opportunity provided her with an invaluable look into life as a lawyer in Portland.