Feb
14
Conservation Corps Minnesota and Iowa Tabling at Sayles
Tue, February 14, 2023 • 11:30am - 1:00pm (1h 30m) •
Sayles Tables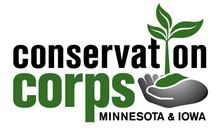 Conservation Corps Minnesota & Iowa, is a nonprofit organization and AmeriCorps grantee that engages hundreds of youth and young adults each year in meaningful service, leadership development, and environmental stewardship. Their vision is to have a world in which everyone has equitable access to nature, is equipped to succeed in career and life, and is empowered to make a difference in conserving natural resources.
AmeriCorps Field Crews serve outdoors restoring habitat, managing natural resources, and occasionally responding to natural disasters or community needs. The field crew program prioritizes personal and professional growth while teaching hands-on conservation skills in the field. Members develop technical skills throughout their term while completing challenging and impactful conservation projects.
Stop by the Sayles tables and talk with Haley Nelson, Recruitment Manager, to learn how you can make a difference and contribute to making our public lands accessible to all.