Mar
2
Sophomore Event: What can I do with this Major?
Wed, March 2, 2022 • 7:00pm - 8:00pm (1h) • Virtual through Zoom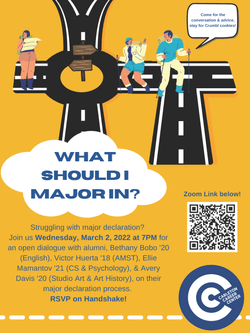 Are you a sophomore who has a major in mind but is unsure of career pathways to explore? Or, perhaps you're still trying to decide between two (or more!) potential majors? This sophomore-focused event, What Should I Major In? is an opportunity to ask questions and hear from recent alumni, specifically, how they chose their majors and how their time at Carleton prepared them for where they are now.
Don't miss out on this engaging Zoom conversation. Students in attendance are invited to swing by the Career Center the following day (Thursday, March 3), anytime 11:00 a.m. - 2:00 p.m. to pick up a Crumbl cookie!
The alumni panelists are: Bethany Bobo '20 (English), Victor Huerta '18 (AMST), Ellie Mamantov '21 (CS & Psychology), & Avery Davis '20 (Studio Art & Art History).
Register through Handshake.  Once you register you will receive the Zoom link in an email.