On September 23rd, over 10 interested students and faculty traveled out to Cannon River Fiber Farm to excavate Jitterbug the alpaca. Jitterbug had died 4 year prior in 2018 and was buried on the farm alongside another of the farm's goats. Julie Johnson and Tim Gallagher, owners of the farm, have been operating in Northfield for the past ten years and maintain a herd of 15-20 alpacas in addition to another 20 angora goats. The pair were both pharmacists before transitioning to become full-time farmers in 2012.
This community partnership came about through Prof. Sarah Kennedy's search to find an alpaca or llama skeleton for her modern comparative osteological collection. Prof. Sarah Kennedy's area of expertise is in South American archaeology – a region where alpacas and llamas played a pivotal role in the development of the empires and civilizations.

The students and faculty arrived at the farm midafternoon and were greeted by Julie who ushered the group to meet her alpaca and sheep herds. Prior to the students' arrival, Prof. Sarah Kennedy and Julie walked the farm together and identified where Jitterbug was most likely buried. Julie had noted that Jitterbug had not been buried very deep and that she was surprised, and relieved, that something had not dug her up over the past few years.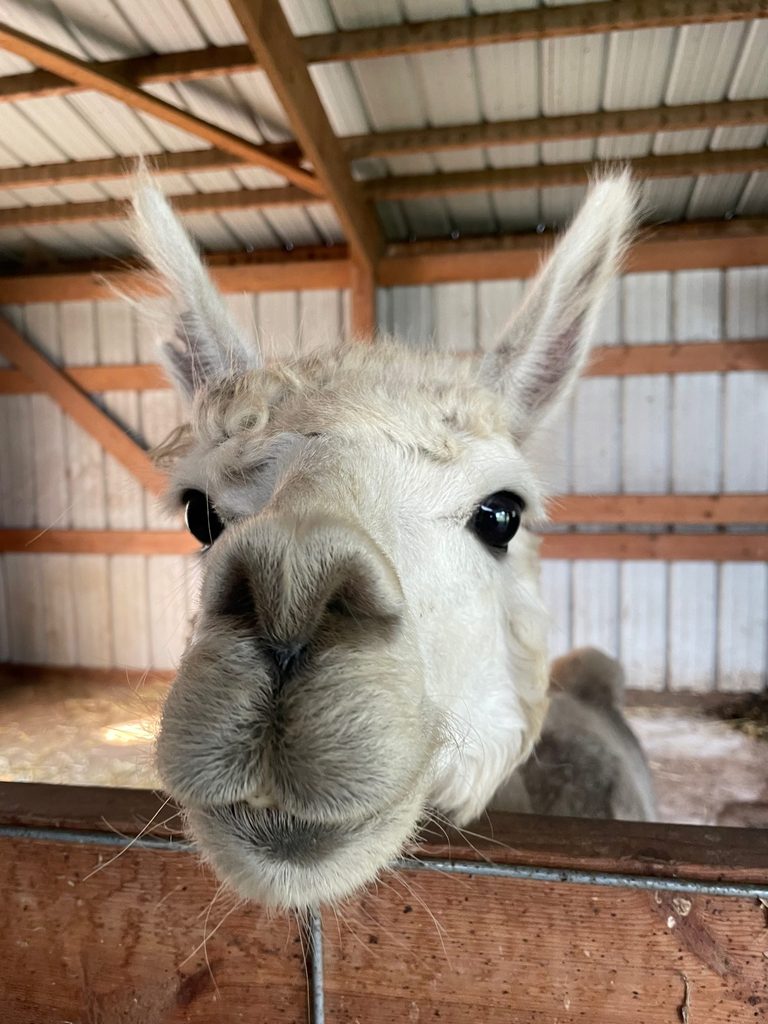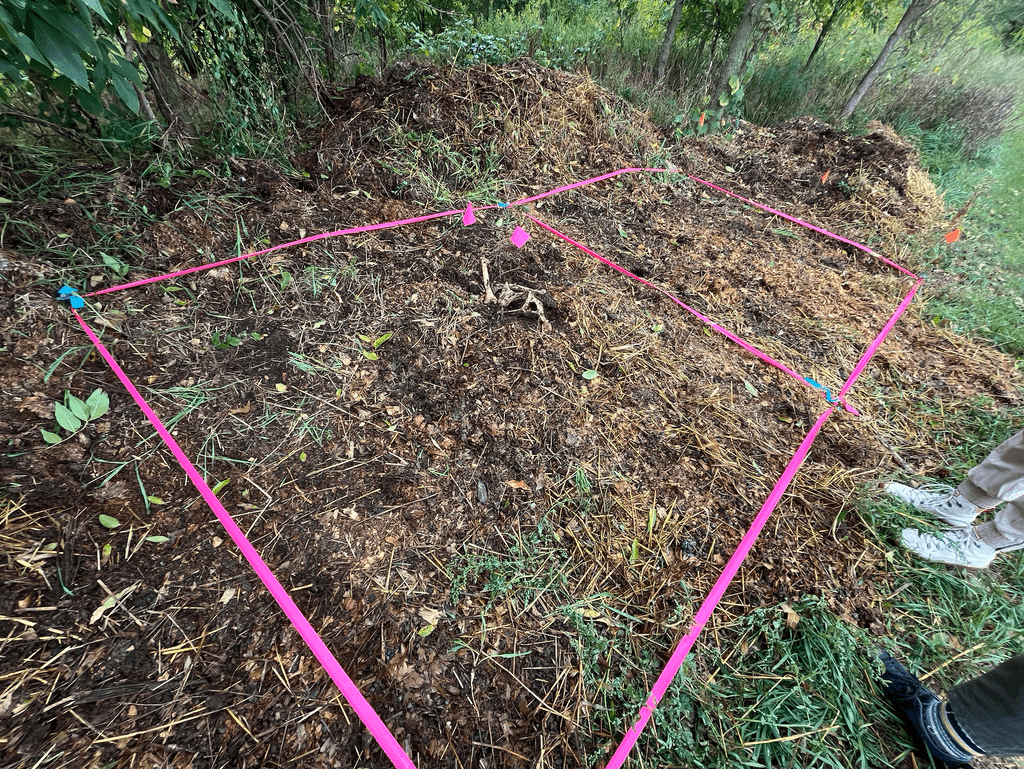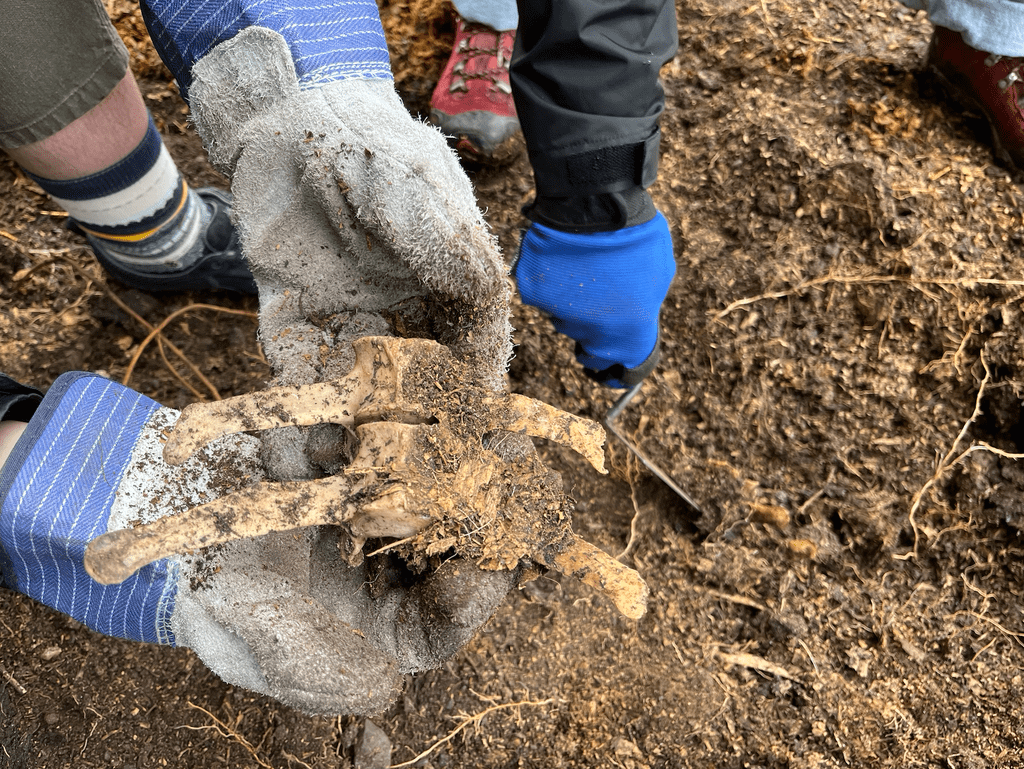 Jitterbug passed away from old age, which allowed her to be buried on the property. Most farm animals in the region that die young or from disease are sent to the University of Minnesota for a necropsy. Other large animals are sold to rendering plants and farmers pay to have them taken off their property. It is fortunate that Jitterbug's remains were still able to be donated.
Students got to work clearing the top layer of mulch and manure before the more careful excavations began. Several bones were visible before the excavation and it very quickly became evident that Jitterbug was merely a few inches below the soil's surface. Claire Boyle '25 (she/her) describes how, "The skeleton was basically undisturbed." She found it "interesting to see how it all fit together as we uncovered it". Boyle, alongside another sophomore Hali'a Buchal '25 (she/her), thought it was exciting to participate in an archaeological excavation. Buchal stated that, "It was a great opportunity to get some hands-on experience in excavation, as well as getting to meet and work with other Carls who share my interests".
Over the course of a couple of hours, students were able to excavate the entirety of Jitterbug's skeleton alongside the remains of a goat that was buried next to her. Both skeletons will be processed in CARCAS' lab and be used in Carleton's comparative collection. "It was awesome to have the opportunity to do something like this just a few minutes away from campus," shared Boyle.
On behalf of CARCAS lab, we would like to extend our gratitude to the Cannon River Fiber Farm for their willingness to support Carleton's efforts in creating our comparative collection and for allowing students to excavate Jitterbug.
Written by Ezra Kucur ('25), CARCAS Lab Member.