IMPORTANT:
If you edit a project on another computer in a version of Premiere more recent than listed here, you will not be able to open that project on a lab computer. Follow Adobe's "How to install previous versions of your Creative Cloud apps" before starting a project for class. In the upper left corner of Creative Cloud, be sure you've clicked on "All Apps," not "Updates."
CAMS production courses require Creative Cloud Applications. If you are currently enrolled in a CAMS production course, a Creative Cloud license is requested for you the morning after the drop/add deadline, so please skip the step in these instructions about contacting the Helpdesk to let them know you need Creative Cloud for class.
The following Creative Cloud applications are installed on lab computers in the Weitz: Adobe After Effects, Audition, Dreamweaver, Lightroom, Lightroom Classic, Media Encoder, Prelude, and Premiere Pro.
As of December 12, 2022, refreshing machines in the Weitz have the following versions of Adobe Creative Cloud software:
Acrobat Pro DC v2022.003.20258
After Effects v23.0.0 (Build 59)
Audition (no version listed, Build 23.0.0.54)
Bridge v13.0.0.562
Dreamweaver v21.3 (Build 15593)
Illustrator v27.0
InDesign v18.0
Lightroom CC v6.0
Lightroom Classic v12.0.1 (Camera Raw 15.0)
Media Encoder v23.0.1 (Build 1)
Photoshop v24.0.0
Premiere Pro v23.0.0 (Build 63)
Where else can I use Creative Cloud?
Weitz 026 has three non-refreshing computers (CC22685, -86, and -87) with Premiere, Audition, and Media Encoder, as well as the Creative Cloud App for Shared Machines. Current Carleton students, staff, or faculty members can use that app to install Adobe software not already installed.
CMC 110, LIBR 306 and LIBR 451 have refreshing machines in them with some Creative Cloud apps on them although, as of Spring 2023, not Premiere or Audition.
These are Adobe's current system requirements for Premiere Pro. Here is Adobe's Help Center. This is Carleton ITS' overview, Adobe: Creative Cloud Quick Start Guide, and here are ITS' instructions, "Adobe: Installing Applications."
Troubleshooting your Carleton Creative Cloud license:
– Log out of Creative Cloud and log back in. To change profiles you have to log out of the Creative Cloud app. It doesn't count to log out of one of the "member" apps, such as Premiere, or Audition.

-When you log in, make sure to select "CARLETON COLLEGE" instead of "Carleton College" or "Personal Account":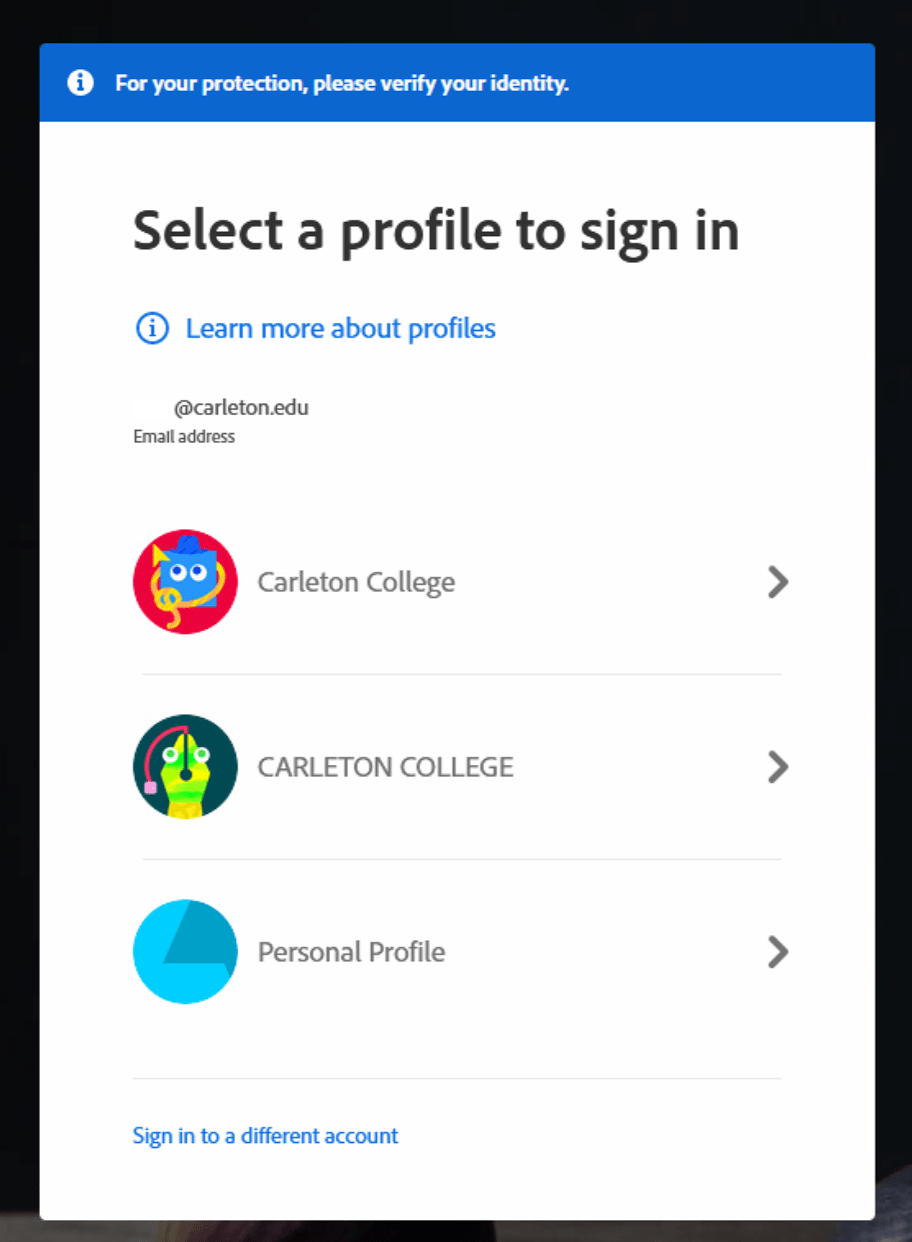 The all-caps "CARLETON COLLEGE" profile is the one associated with your term-long license.

-If you don't see an all-caps profile, please re-read ITS' installation instructions, looking for any step you might have missed and correct it.

-If none of this seems to be working after you've tried it, please reach out directly to the Help Desk for further support.