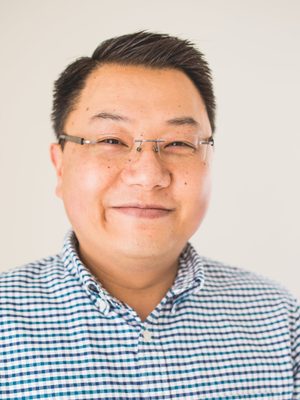 The great thing about Carleton, says Marcus Lee '99, is that years after graduating, you can be anywhere in the world — say, walking downtown in Singapore — happen upon a fellow Carl, and instantly have a connection.
"There's a strong community at Carleton that you don't see with other groups," Lee says. "I've talked with alumni who graduated decades before me and other alumni who graduated years after me, and I always feel an instant bond. We share a way of looking at the world.
"These bonds are the strength of Carleton."
Lee majored in psychology as an undergraduate, went on to earn two master's degrees, and now works as an information technology consultant in Minneapolis. He's long been a "super volunteer" for the college, he says, and in 2016 he joined the Alumni Annual Fund board because he wanted to help more students receive the benefit of a Carleton education.
"Financial aid is my personal passion," Lee says. "Carleton's endowment is smaller than our competitors, so we need to make up that gap by raising money annually to stay competitive and deliver on our mission of providing an exceptional education for all students — not just those who can fully afford it."
Having a full spectrum of socioeconomic diversity represented on campus is important to Lee. "It contributes to everyone's education," he says. "It better represents what students will encounter in the real world and drives creativity and intellectual curiosity, which also supports our learning mission."
It says a lot about Carleton that so many alumni give back to the Annual Fund — for decades, participation rates have been around 50 percent, placing us among the top colleges in the country. Some donors like to allocate their gifts toward a particular area, such as financial aid or student life, but the majority give to the unrestricted fund, meaning the college may put those dollars toward the areas of greatest need. Carleton is one of the most efficiently managed schools in the country, Lee says, and unrestricted gifts allow more flexibility in budgeting.
"The Annual Fund supports the operating budget, so its resources go toward financial aid, faculty, the physical plant — if you pick anything at Carleton that means a lot to you, there's a high probability the Annual Fund helped make it happen. I give because Carleton holds a special place in my heart."