Carleton aspires to prepare students to lead lives of learning that are broadly rewarding, professionally satisfying, and of service to humanity. We intend to make career planning one of the college's distinctive strengths.
Hands-on, experiential learning opportunities such as internships and research positions give our students valuable perspective and open avenues to future careers. However, many of these opportunities are unpaid, which may pose a financial hardship for students who depend on income from summer and break jobs to help support themselves and pay for college.
We want all students to have access to these career development opportunities, regardless of cost or financial need. Robust support for the Career Center, advising, and experiential learning helps all students explore their possible futures throughout their four years at Carleton.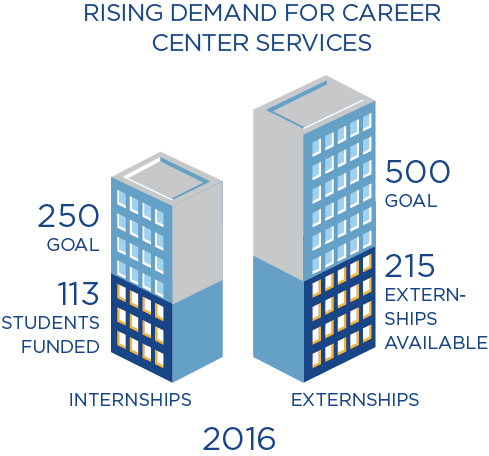 ---
Life and Career Goal: $35 million
Amplifying Career Center impact
Carleton is determined to be a national leader in preparing all students for life after graduation. To that end, we must expand current Career Center operations and staffing to better serve all students at all stages of their Carleton experience. The expanded Career Center team will more effectively connect students with a wide array of resources through their comprehensive personal service and programs.
In particular, out-of-classroom experiences such as internships and externships are essential in helping students build practical skills and launch great careers. Most employers today expect new hires to have had significant exposure to their field. Yet for many students, these unpaid positions are unaffordable. Our goal is to provide every student with at least one externship and internship to best prepare them for the realities of today's job market.
Connecting academic life to life after graduation
The Career Center has many campus partners in preparing students for their post-Carleton lives. Faculty and staff members trained as Liberal Arts Advisers help students find their academic strengths and link emerging curricular interests to possible careers. Faculty members from all disciplines help students explore their passions or prepare for graduate school through mentored research. Carleton provides stipends to some students who work with faculty over the summer, but the need for such support far outstrips the available budget.
Our goal is to double the number of awards, creating 85 endowed summer research stipends. Additionally, increasing endowed funding and staffing for Off-Campus Studies and the Center for Community and Civic Engagement will support more opportunities to connect students with global and local concerns such as the environment and healthcare. It will also help remove financial barriers to student participation in these programs.