Tactile Learning
The Class of 1969 Makerspace fosters hands-on creativity and experimentation.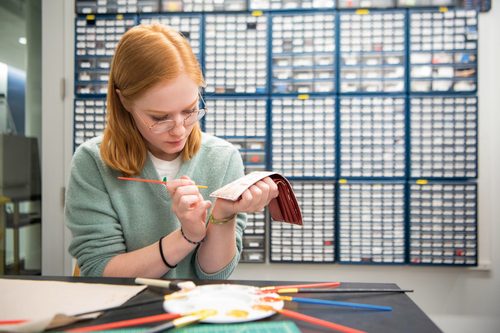 It's Friday afternoon and Aaron Heidgerken-Greene can't answer questions quickly enough as student after student walks into Carleton's new makerspace: Where's the embroidery thread? How can I increase the torque on this? Do I really need to wear safety glasses? Heidgerken-Greene, instrument project manager for the physics and astronomy department who manages the makerspace, deftly juggles the queries and directs visitors to tables, totes, and drawers around the brightly lit room.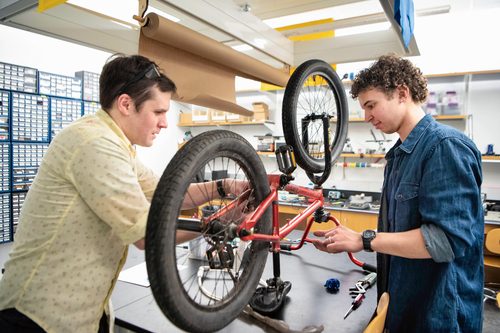 Located in the lower level of Anderson Hall, the Class of 1969 Makerspace opened in fall 2020 and has quickly become a magnet for students looking to engage in self-directed hands-on learning. Makerspaces have cropped up on campuses across the country in recent years as a generation raised on digital communication, video feeds, and virtual reality seeks out opportunities to build material objects. Carleton's facility is equipped with 3-D printers, sewing machines, soldering irons, power tools, and myriad other implements for crafting and constructing. "Anyone is welcome to come in and use the tools," Heidgerken-Greene said. "We just ask that if a project is going to take more than five minutes or five dollars in materials, people fill out a form that helps us track what they're doing."
Since its opening, students using the space have built microphones, carved wooden spoons, and created a 3-D model of Carleton's campus. Physics major Lucy Griswold '22 has used the space to build a video-game player that fits into an Altoids tin—an idea she gleaned from surfing YouTube. "It's not a class project, just something I've always wanted to do," she said.
"It's a place where collaboration occurs," Heidgerken-Greene said. "Students learn from other students."