If You Build It, They Will Learn
Carleton's new, state-of-the-art $80 million science facility inspires creativity, encourages cross-disciplinary collaboration, and aims to attract more students to the STEM community.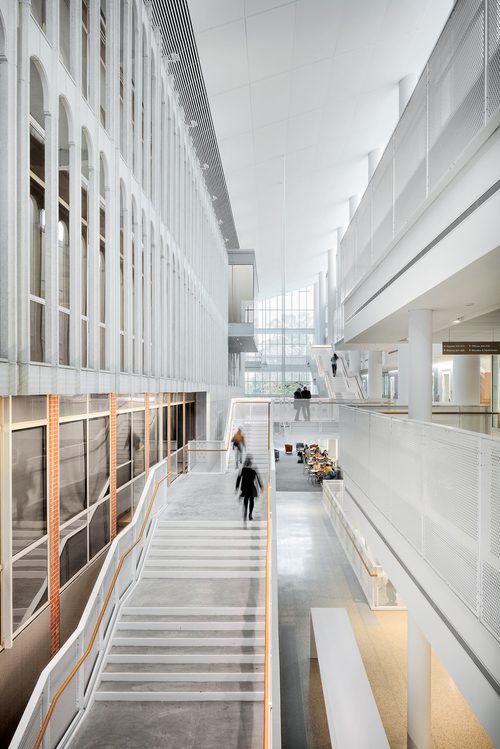 Carls ask tough questions. They also get their hands dirty and solve problems. This hands-on style of teaching is one reason Carleton has always been strong in the sciences. To keep this tradition alive, the main focus of the Every Carl for Carleton campaign was building a state-of-the-art science complex, and dozens of alumni, parents, and friends of the college generously jumped on board to contribute a total of $80 million.
The new science complex, which combines the brand-new Evelyn M. Anderson Hall and renovated Olin and Hulings halls, now houses all scientific disciplines in 240,330 square feet. Its meticulous design was aimed at better supporting hands-on, immersive learning and putting science on display. Many of the classrooms, labs, office suites, and casual gathering areas are surrounded by glass walls, eliminating the fortress-like feel of older campus buildings.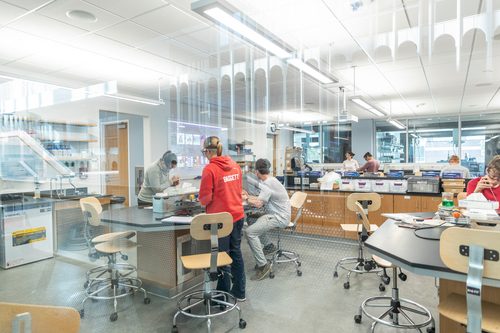 "I love the fact that you might see someone that you know casually working on something in a lab and be compelled to say, 'That was cool. What are you doing?'" said Jennifer Wolff, associate professor of biology. "That opens up all sorts of opportunities, especially for us kinesthetic learners. Students and teachers don't always know what to even be curious about unless they see it."
Even those casual conversations can spark ideas for collaboration, Wolff notes, helping to break down silos between disciplines. In the new complex, these conversations are now happening in multiple student gathering spaces, at times over ice cream from Schulze Cafe.
"There's no question that collaboration is the norm and will only become more important in professions that involve the sciences," Wolff says. "No one person can be an expert on everything, so anybody who wants to approach a problem is going to need to tap into people and resources that are outside their own comfort zone."
Begun in fall 2017 and completed in 2020, the new complex features:
A computational research suite
The Robert B. Daughtery '43 Atrium
Safe and eco-friendly labs
An integrated floor plan with teaching labs, classrooms, and instrument rooms adjacent
Learn more about Carleton's new science facility.