Oct
11
National Coming Out Day
Wed, October 11, 2023 • 6:00pm - 8:00pm (2h) • Chapel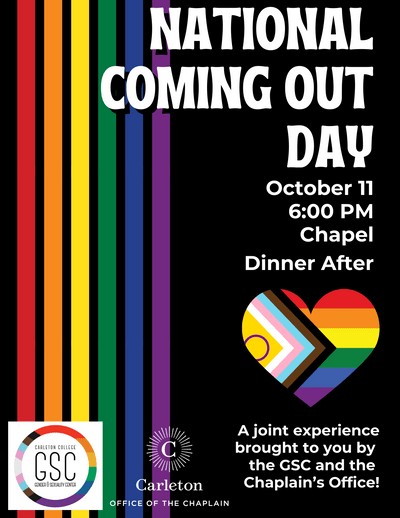 Join the Gender & Sexuality Center and the Chaplain's Office in celebrating National Coming Out Day at our service & dinner.
This service will be a non-religious space focused on holding space for the many emotions which might arise for us on National Coming Out Day. It will feature student performers, a guided meditation, and candle-lighting.
The service will be followed by a community dinner, catered by Desi Diner. Folks are welcome to attend both the service and dinner, or attend just one.
All are welcome, no questions asked.
This event is part of the GSC's LGBTQIA+ History Month programming series. Check out the full calendar of events here.
from Chaplain's Office
Event Contact: svogel, dperez