Aug
22
Resilient Mindset - Bend, Don't Break!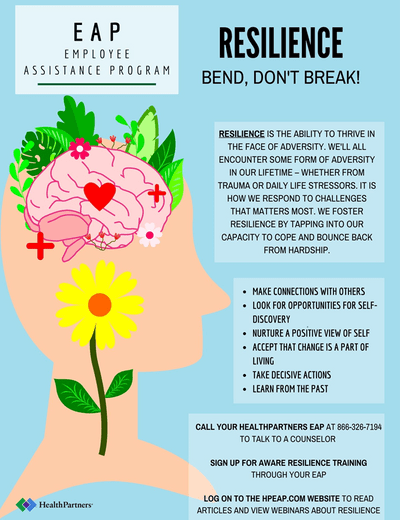 PLEASE JOIN US on Tuesday, August 22nd for a one hour presentation on building resilience. We are excited to offer this presentation in a hybrid model!
Rachel Thiemann will be presenting, she is from our Employee Assistance Program (EAP) partnership with Health Partners. Rachel has much experience presenting on this topic and is a dynamic speaker who is sure to keep you engaged the entire hour.
In-Person Details:
Leighton 304
9:30a-10:00a Coffee & Connection - Bring your own morning beverage, or we'll have some coffee for you to enjoy.
10:00a-11:00a Resilient Mindset Presentation
Virtual Details:
10:00a-11:00a Resilient Mindset Presentation
Join the Zoom meeting

Meeting ID: 947 8813 7676
Passcode: 918465
from Human Resources