Jan
30
Canceled: Breakthrough Twin Cities Information Session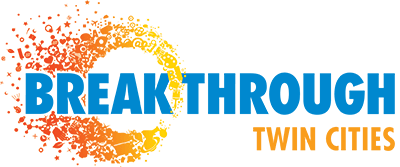 Breakthrough Twin Cities envisions a future where all students have the resources to reach their full potential, where every classroom is led by an engaging teacher committed to each student's success, and where society as a whole realizes the ultimate social and economic benefits of fully investing in its youth.
Breakthrough Twin Cities provides a six-year college access program to support under-represented students and their families in the Twin Cities. In middle school, they provide academic enrichment programming during the summer, in which college and high-school students serve as Teaching Fellows and inspire students to grow and reach their goals. Their high school program helps students navigate school, the rigors of college preparation, and other challenges as they grow and develop.
Breakthrough's highly-rated Teaching Fellowship takes place every summer. With its "all-day, every day" nine-week commitment, Breakthrough's trademark summer Teaching Fellowship is very intense. It is a lifestyle more than a job … an unmatched opportunity to make a real impact on students and the world. Breakthrough is also hiring a High School (BLP) Program Associate and a Site Operations Associate.
To learn more about the Breakthrough Twin Cities and any of these positions, plan to attend this information session.
from Career Center Events