May
1
Harry Nordstrom Memorial Service
Sun, May 1, 2022 • 1:00pm - 2:30pm (1h 30m) • Skinner Memorial Chapel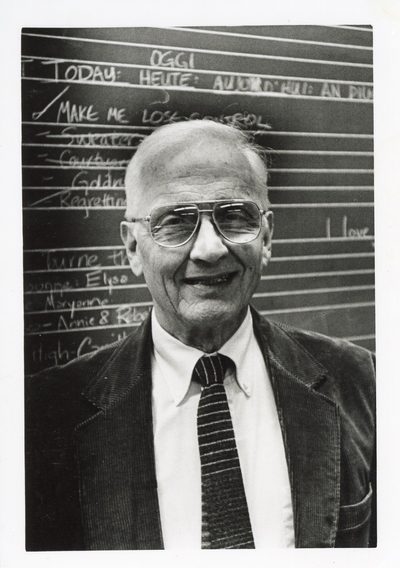 Celebration of the life of music professor Harry Nordstrom.
All are welcome; masks are required.
NOVEMBER 21, 1923 - NOVEMBER 13, 2021
Harry Wallace Nordstrom was eight days shy of 98 when he died in his home in Northfield, MN, his hand held by his eldest son, Eric, and surrounded by his son-in-law, Dr. Fred Haas and one of his eight grandchildren, Alec Wells; the same house he and our mother, Sally, had filled to overflowing with unconditional love over six decades.
Our father was born in Minneapolis, MN in 1923, graduated from Keokuk, IA High School in 1941, and did well enough on the army language exam to become a translator and currier during WWII. Like so many after the war, Harry used the GI Bill® for higher education, earning a PhD in music. He was an accomplished violinist and violist and met his cellist wife, Sally Lee Nordstrom, while attending the University of Minnesota. He played in the Minneapolis Symphony (now Minnesota Orchestra) under Dimitri Mitropoulos. He spent the next 40 years as a professor of music at Carleton College, passing along the beauty of music to countless students.
Our father was the gentlest and kindest of souls. His love, Job-like patience and steady nature made him seem permanent, like nature itself. Having been raised by working class parents who lived through the Great Depression, he was a conservationist in the full sense of that word, saving every rubber band, twist tie and scrap of lumber; he loved woodworking and fixing things rather than throwing them out, often using his dad's old tools (who had been a pattern maker in a foundry).
Harry is survived by five children and their spouses: Pat (Kyle, deceased), Sarah (Fred), Amy (Doug), Eric (Laura) and Rolf (Kathy); by eight grandchildren: Rolf H., Anya, Leif, Hans, Alec, Erik, Eli and Jericho; and three great grandchildren: Kysi, Clea, and Nyia. He was preceded in death by his parents Harry and Ellen, brother Lawrence (Bud), and wife, Sally.
For any who would like to remember Harry, we invite you to make a donation to have trees planted in our national forests for future generations to enjoy.
from Chaplain's Office