May
7
Electric Theater, 1923 Performance
Sun, May 7, 2023 • 3:00pm - 5:00pm (2h) • Kracum Performance Hall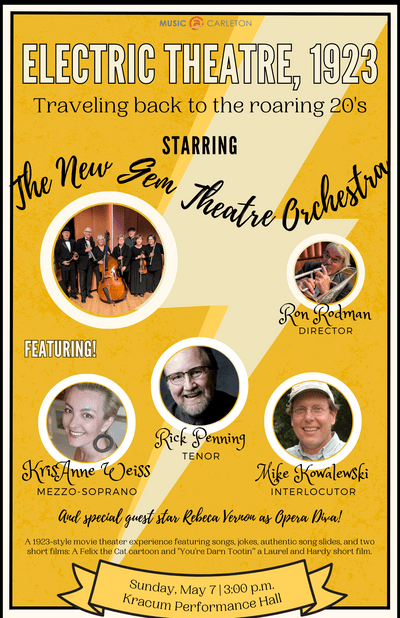 The Carleton College Music Department presents The Electric Theater, 1923
The New Gem Theater Orchestra (also known as the North Star Cinema Orchestra) will present a 1923-style movie theater experience on Sunday, May 7 at 3:00 p.m. in Kracum Auditorium in the Weitz Center for Creativity. The show will feature songs and sing-alongs of the 1920s, along with authentic skits, jokes, and the ensemble playing to a Felix the Cat cartoon and a Laurel and Hardy short film.
The New Gem Theater Orchestra is an ensemble of music faculty from Carleton College. Singers for the show will be KrissAnne Weiss and Rick Penning. The interlocutor for the show is Michael Kowalewski, Lloyd McBride Professor of English & Environmental Studies . Members of the ensemble include, Nina Olsen, Liz Ericksen, Martha Jamsa, Matthew McCright, Connie Martin, Lynn Deichert, Matthew Zimmerman, and David Miller. The director of the group is Ron Rodman, Dye Family
Professor of Music.
The show is sponsored by the Carleton College Department of Music, and the Carleton Office of the Provost. Everyone is welcome.  A reception will be held after the performance with food, drinks and celebration!
from Music Department