May
9
International Film Forum: OKINAWA: THE AFTERBURN
Mon, May 9, 2022 • 7:00pm - 9:00pm (2h) • Weitz Cinema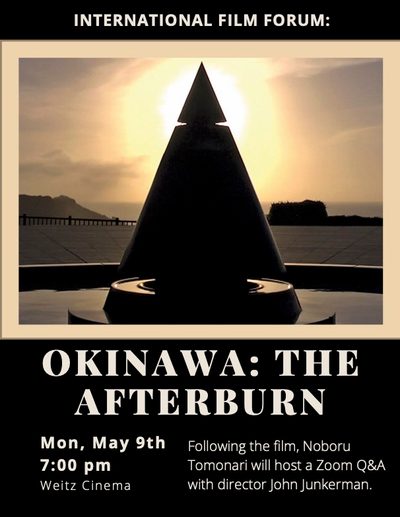 The International Film Forum presents Okinawa: The Afterburn (John Junkerman, 2015, Japan/US, 148 min.). 
Following the film, Noboru Tomonari will host a Zoom Q+A with director John Junkerman.
Released in Japan on the 70th anniversary of the Battle of Okinawa, OKINAWA: THE AFTERBURN is the first documentary to provide a comprehensive look at the battle and the ensuing 70-year occupation of Okinawa by the United States military. On April 1, 1945, American troops landed on Okinawa, beginning a battle that lasted 12 weeks and claimed the lives of some 240,000 people. The film depicts the Battle through the eyes of Japanese and American soldiers who fought each other on the same battlefields, along with Okinawa civilians who were swept up in the fighting, with carefully selected footage from the U.S. National Archives.