Mar
2
Panel: "The Invasion of Ukraine: Its Causes & Consequences"
Wed, March 2, 2022 • 4:00pm - 5:30pm (1h 30m) • Leighton 305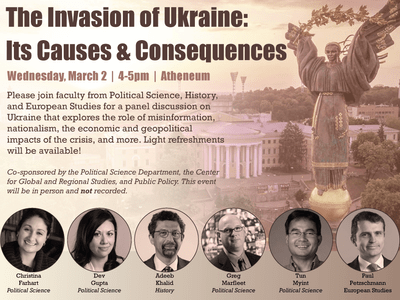 Please join faculty from Political Science, History,
and European Studies for a panel discussion on
Ukraine that explores the role of misinformation,
nationalism, the economic and geopolitical
impacts of the crisis, and more. Light refreshments
will be available!
Co-sponsored by the Political Science Department, the Center
for Global and Regional Studies, and Public Policy. This event
will be in person and not recorded.
from Political Science
Event Contact: pteiken