Apr
7
GUEST: Sara Davis Buechner Concert
Fri, April 7, 2023 • 7:30pm - 9:00pm (1h 30m) • Kracum Performance Hall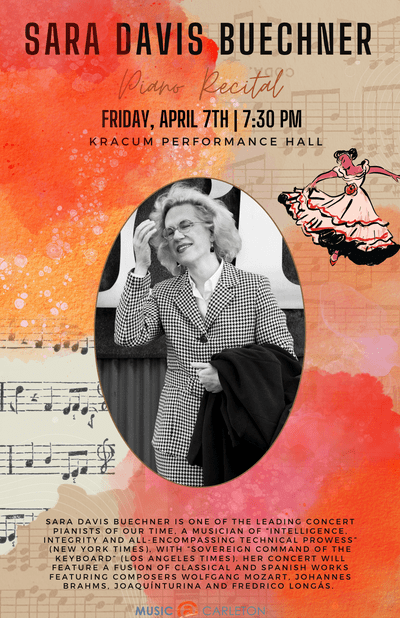 Sara Davis Buechner is one of the leading concert pianists of our time, a musician of "intelligence, integrity and all-encompassing technical prowess" (New York Times), with "sovereign command of the keyboard" (Los Angeles Times). Japan's InTune magazine says: "When it comes to clarity, flawless tempo selection, phrasing and precise control of timbre, Buechner has no superior."
She was the Gold Medalist of the 1984 Gina Bachauer International Piano Competition, and a Bronze Medalist in the 1986 Tschaikowsky International Piano Competition in Moscow. Sara Davis Buechner is the most prominent transgender musician appearing on the classical concert stage today. She received the Eleanor Roosevelt Award of Brandeis University, and is a member of the National Museum of Women in the Arts.
A bit about the program from Sara:
"The first half of my recital program is very "traditional" in the sense of Germanic classics -- all works that I have loved since earliest memory. The Mozart Fantasy offers an improvisational opening to the evening that culminates with a magnificent and delightful set of Variations that end the "Dürnitz" Sonata, played without pause after the Fantasy. Brahms' two Rhapsodies continue and embellish upon the Romantic groundwork laid in the Mozart works.
The second half consists of music that is immensely colorful in nature and very engaging by way of  Flamenco rhythms. The Turina Suite is a neoclassic collection of dances, balanced perfectly by the five melodious works of fellow Spanish composer Federico Longás. The piano music of Longás is particularly rare and it is a true honor to be playing it after its' long absence from the concert stage."
from Music Department