Sep
21
International Day of Peace in Northfield
Thu, September 21, 2023 • 5:00pm - 7:00pm (2h) • Central Park, Northfield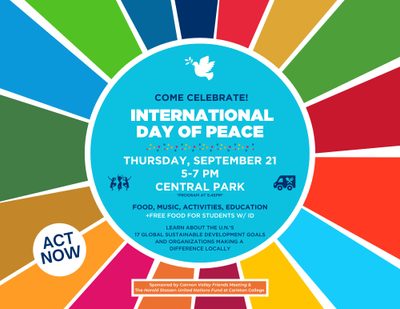 Celebrate Northfield's 2023 UN International Day of Peace, September 21, 5-7 pm in Central Park!  Join more than 30 organizations whose work aligns with the UN's Sustainable Development Goals. Learn how folks are working to meet these goals right here in Northfield! Find activities and education for all ages - music, art-making, yoga, juggling, dance and meditation! Plus food truck vouchers for the first 170 students (with ID).
A short program begins at 5:45 with Carleton's own Provost and VP for Academic Affairs, Michelle Mattson, keynote remarks by Jack Nelson-Pallmeyer, performances by the Northfield Dance Academy, the Northfield Justice Choir.
Come over to Central Park, expand your vision for peace, and get involved!