Oct
8
Allegiance to Winds and Waters: Bicycling the Political Divides of the United States
Sat, October 8, 2022 • 2:00pm - 3:30pm (1h 30m) • Northfield Public Library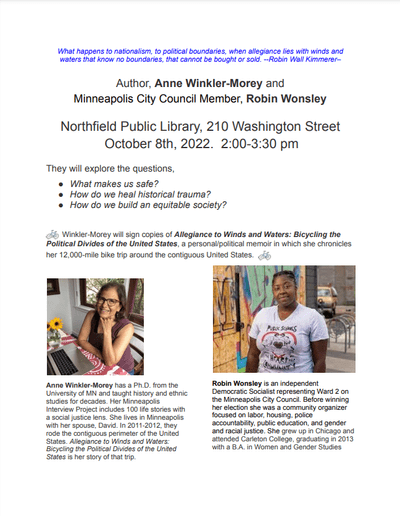 In Allegiance to Winds and Waters, a laid-off college professor from Minneapolis bicycles the perimeter of the US with her spouse. Inspired by a study showing that Americans of all ideological stripes are united in desiring a more equitable economy, she sets out to discover why we don't have what we want.
Join author Anne Winkler-Morey, in conversation with Robin Wonsley, a Carleton alum and Minneapolis City Council person, for a reading from her 2022 book, Allegiance to Winds and Waters: Bicycling the Political Divides of the United States.
More information can be found on the Northfield Public Library website.
from American Studies