Oct
25
Archiving Memories: Recording Salvadorans into D.C. History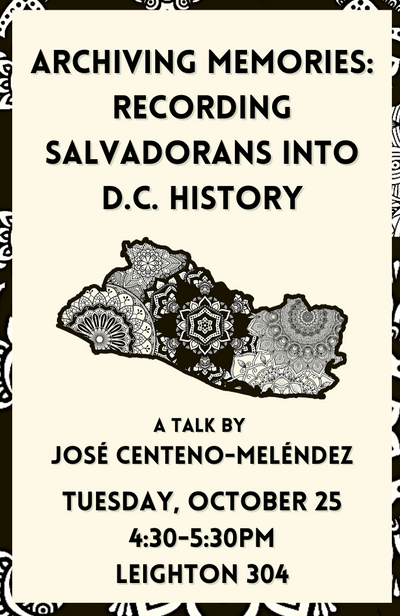 José Centeno-Meléndez is a community historian who advocates for the inclusion of Latinx D.C. lived experiences in public memory spaces. He is currently a PhD Candidate in American Studies at the University of Texas at Austin and is completing his dissertation project, which traces Salvadoran presence in Washington, D.C., from the nineteenth century to the 1980s through the intersections of cultural geography, critical race and ethnic studies, and foodways. His research draws from archived newspapers, oral histories, and the personal archives of longtime residents to situate Washington, D.C., not only as a site of arrival for many Salvadorans and other Latinxs, but also as an incubator of ethnic community formation and identity expression in places like grocery stores, restaurants, and public parks.
José has more than seven years of experience using oral history as a community-centered practice to document Salvadoran and Latinx histories in the D.C. area. He often collaborates with
artists, community organizers, cultural workers, and longtime restaurant owners to advocate for the inclusion of diverse Latinx histories in museums, public art, and public libraries. He brings these learning experiences to the Smithsonian Institution's National Museum of American History (NMAH), where he works as an oral historian within the museum's Center for Restorative History.
from American Studies