Oct
4
Teachers On Call Tabling at Sayles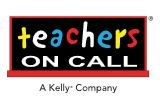 Teachers On Call, a Kelly® Company, is a staffing service that hires licensed teachers, paraeducators, tutors, and early childhood education staff. They provide education professionals to 150+ school districts and 450+ early childhood education centers, charter, and private schools across the country.
Have you ever considered being a substitute teacher? It's a great fit for college students.
Getting started is easier than you think. Teachers On Call will provide all of the training you need to be successful, and you can create your own work schedule. Best of all, it's meaningful work that matters to your community.
Teachers On Call are seeking students who are:
Looking for flexible work while taking classes
A recent or soon-to-be graduate who hasn't found a job in their field of interest yet?
An Education major looking to get a foot in the door with schools
A student who needs extra income quickly
You can become a Substitute Para with your High School Diploma or you can be a Substitute Teacher with any Bachelor's degree with a MN Short Call License or Full time Teaching License.
Stop by the table and talk with Jillian Rowe, Recruiting Strategist, to learn more about the program.
from Career Center Events